TV Bits: 'Boardwalk Empire', 'Haven', 'The Simpsons' Get Renewals; Watch 'Walking Dead: Torn Apart' Webisodes; 'Justified' Casts Season 3 Villains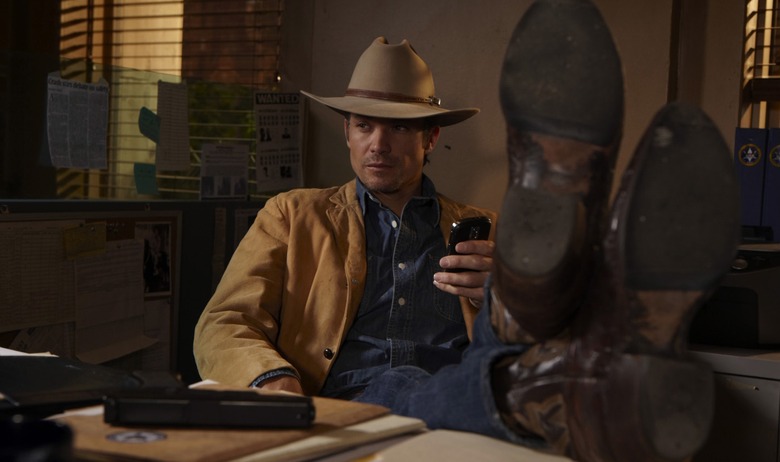 We bring nothing but good tidings in this edition of TV Bits, which is all about giving you more of shows you love. After the jump, read about:
Renewals for Boardwalk Empire, Haven, and The Simpsons
A webisode prequel to The Walking Dead
Not one, but two new villains for Raylan Givens on Justified
Also set to return for a third season is Syfy's Haven, which drew steadily decent ratings through last season. Based on Stephen King's The Colorado Kid, the hourlong drama centers around FBI agent Audrey Parker (Emily Rose), who's been sent to the titular town to investigate a plague of supernatural afflictions called The Troubles. The show's second season closed September 30, and the third season is expected to premiere in summer 2012. In between, the series will air a standalone Christmas episode called "Silent Night" on December 6. [TV Line, TVOvermind]
You may recall that there was some question earlier this month of whether the current 23rd(!) season of The Simpsons would be the last, thanks to some contract disputes. We now have our answer, and it's good news. The beloved cartoon has been renewed for two more seasons, as announced by the network earlier this week. Producers of the show accepted reduced salaries last week, and the cast has reportedly agreed to a pay cut as well — though not one as big as the 45% that Fox initially demanded.
Given that new episodes of the series aren't making as much money as they used to, and that The Simpsons can keep generating revenue with or without them (thanks to syndication, merchandising, etc.), it seems plausible that the show won't last much longer than these two upcoming seasons — but that's a conversation for another day two years from now. [The Hollywood Reporter]
We've only a few days to go until the Season 2 premiere of The Walking Dead, but for those who'd like their zombie fix sooner, AMC recently released a prequel web series titled The Walking Dead: Torn Apart. Directed by Greg Nicotero, the miniseries tells the tale of the memorable Bicycle Girl, whom Rick Grimes encountered in the pilot episode. The episodes are brief — the longest is a little over 5 minutes — but together they provide a slightly different perspective on the world we've seen through Grimes and his friends' eyes. The first episode is embedded below; head over to YouTube to watch the rest.
Every hero needs a villain, and Justified's Raylan Givens (Timothy Olyphant) is about to get two. Neal McDonough (Captain America: The First Avenger) and Mykelti Williamson (Bubba from Forrest Gump) have been cast as the baddies in the contemporary Western's third season, which kicks off January 2012. McDonough will play well-dressed Detroit gangster Quarles, who intends to become the new crimelord in town, while Williamson will play Limehouse, a Harlan County man who wants to protect his land at any cost. [Entertainment Weekly]