Universal Drops 'Tower Heist' Early VOD Experiment In Response To Theater Boycotts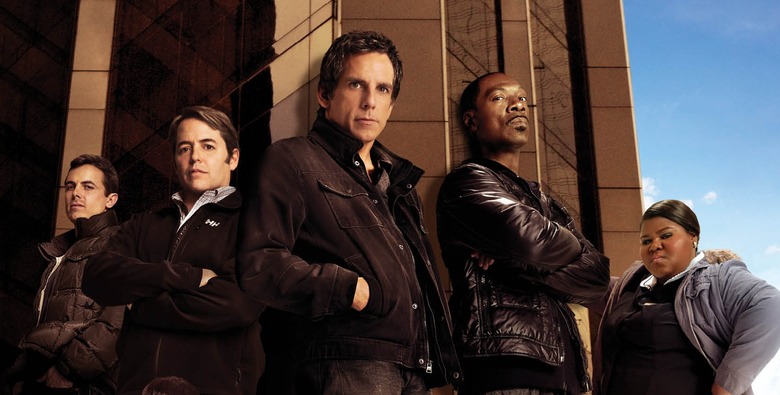 Last week, Universal Pictures revealed that it would be releasing the Brett Ratner comedy Tower Heist on VOD for $59.99 just three weeks after its November 4 opening in Atlanta and Portland, Oregon. The move immediately sparked outcry from exhibitors across the country — Cinemark, the U.S.'s third-largest theater chain, quickly announced that it would not be showing Tower Heist in any of its 3,800 theaters, and several smaller chains including Galaxy Theatres, Regency Theatres, and Emagine Theatres followed suit this week.
Now it seems the exhibitors have won the standoff, as Universal has agreed to drop the VOD experiment. More details after the jump.
Variety broke the news of Universal changing their plans today. With so many theaters refusing to show the movie, Universal stood to lose quite a bit of money by testing this model at this time. However, the studio hasn't ditched the experiment so much as postponed it. In a statement, Universal called the development a "delay" to its "planned premium home video on demand... experiment."
Exhibitors, on the other hand, were thrilled with their victory. "[The National Association of Theatre Owners] would like to thank Universal for responding to various theater owners' concerns and cancelling the PVOD test it was contemplating," said NATO president/CEO John Fithian. "They have been engaged with individual exhibitors on this test, and while it was something that many theater owners could not ultimately support, the open and collaborative nature of the dialogue is appreciated."
On the one hand, it's understandable that exhibitors are frustrated with having such a large chunk of the exclusivity period taken away from them. On the other, as many have pointed out, they may be better off spending their energy finding ways to improve the theatergoing experience than forcing studios to hold on to the old models. The studio's hope with the Tower Heist release wasn't to cannibalize ticket sales, but rather to reach audiences that might otherwise not be inclined to visit theaters — whether because the showtimes aren't flexible enough or because getting away for several hours at a time is too difficult. Exclusivity is already far from the only reason people visit theaters; in this day and age, if all a viewer wanted was to see something for free, he or she could easily download an illegal copy off the Web.