Don Johnson Joins Quentin Tarantino's 'Django Unchained'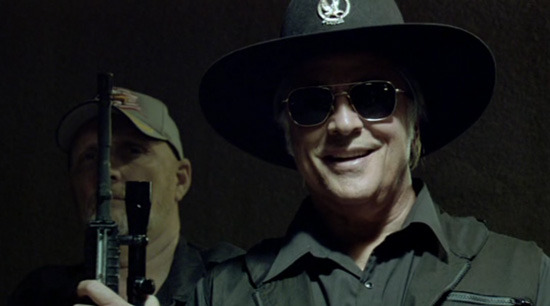 Briefly: It's a shame that Kevin Costner won't be in Quentin Tarantino's Django Unchained because of his commitment to The Hatfields and the McCoys, but Tarantino has lined up another well-known guy to take a role. Don Johnson will be in the movie, though he won't play the slave trainer role for which Costner was lined up. Instead, he'll play a totally different, but still nasty character.
Johnson will appear in the movie as Spencer Bennett, a plantation owner who runs a string of 'ponies' — that is, pretty, young female slaves. It's not a big role, but Johnson will get to factor in to one of the film's early sequences as Django (Jamie Foxx) and dentist turned bounty hunter King Schultz (Christoph Waltz) begin their association. Bennett is a pretty unsavory part, as are a great many roles in the movie, and Johnson is a good pick for it.
We're still waiting to hear who's been chosen to play Django's wife Broomhilda; that's one of the remaining important roles left to announce. Django Unchained should start shooting any minute now, with Samuel L Jackson, Dennis Christopher, Kurt Russell, Gerald McRaney, and M.C. Gainey in other roles. Django Unchained will release on Christmas Day, 2012. [
]