Superhero Bits: R.I.P.D., Batman: Arkham City, Man Of Steel, Mark Millar, Spider-Man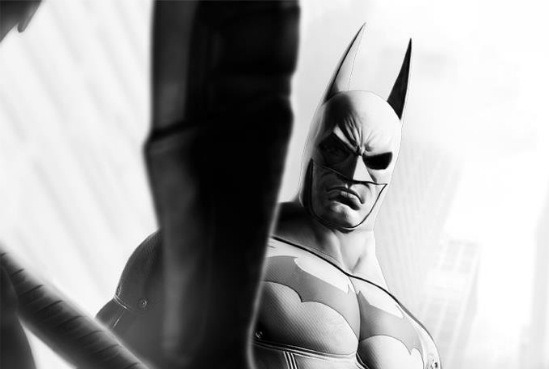 NOTE: The second and third pages of this article weren't working earlier today. That has now been fixed. My apologies.
Will any superhero news be able to top today's Avengers trailer? We'll try. Who is Wonder Woman's father? Is Joel Schumacher a fan of fellow Batman director Christopher Nolan? Are there college courses that focus on comic books? What are the 40 greatest Spider-Man moments of all time? Is there any kind of update on Mark Millar's Supercrooks? Who has been spotted in a mocap suit on the set of R.I.P.D? Read about all this and more in today's Superhero Bits.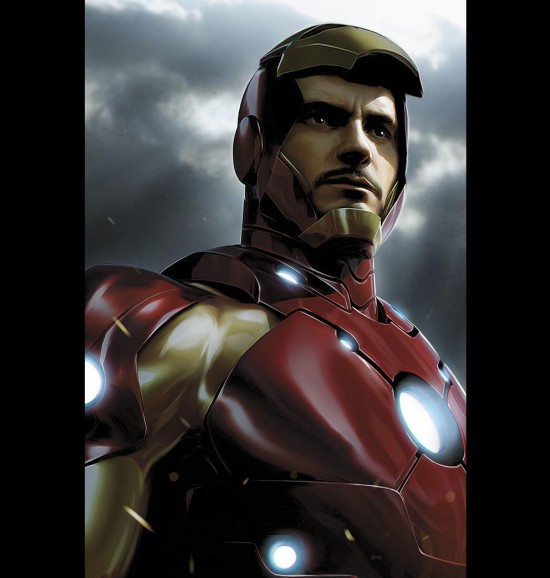 More cool 2D fan art from Cool Vibe. It's Iron Man by Jeremy Roberts.
DC Comics is about to make a major addition to the Wonder Woman mythos – she's going to learn the identity of her father. We won't spoil it here, but it's someone you've heard of, someone not necessarily in the DC Universe, and you can read about it on io9.
This kid is too cute. He's Batman and he's ready for action thanks to Buzzfeed (via Fashionably Geek).
Joel Schumacher and Christopher Nolan are on the opposite sides of the Batman movie spectrum but Schumacher is a huge fan of Nolan's work ever since the earliest days. Here's one of a bunch of quotes from IFC.
Chris Nolan is one of my favorite directors. Years ago I was doing press in Paris, and I was with Eli Richbourg. We were looking for a movie that wasn't in French . . . and we saw this British film called 'Following.' It's in black and white and it's Chris Nolan's first film, and . . . I just thought it was the work of a brilliant young director. So I always had him in the back of my mind, thinking, 'We're going to hear from this guy, big time.' Then I saw 'Memento' and the promise was fulfilled very fast.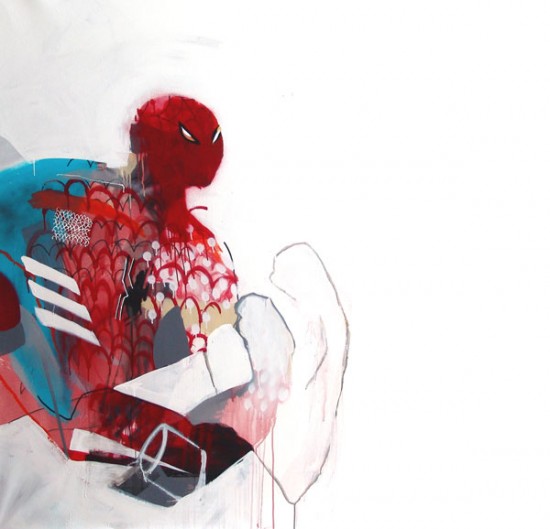 Artist Anthony Lister combines a graffiti style with a love of superheros. Check out more of it over on his site or Geek Tyrant.
Though The Avengers were well documented while shooting in Cleveland and New York, there was one place they didn't get seen: Wilmington Air Park. Cleveland.com has all the details. Thanks to CBM.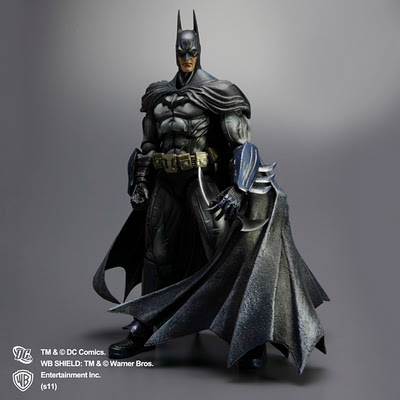 DC and Square Enix are releasing action figures for Batman Arkham City and they're pretty spectacular. Batman is above, head to Super Punch to preorder, see more photos including The Joker too.
Mom and Dad probably wouldn't be happy if they knew you were taking these college courses. Gamma Squad has found five online college courses focused on comic books. These sound fun, some examples are Graphic Novel as Literature at Emerson College, History of Comics at Academy of Art University and Superheroes to Global Warming at University of California Irvine.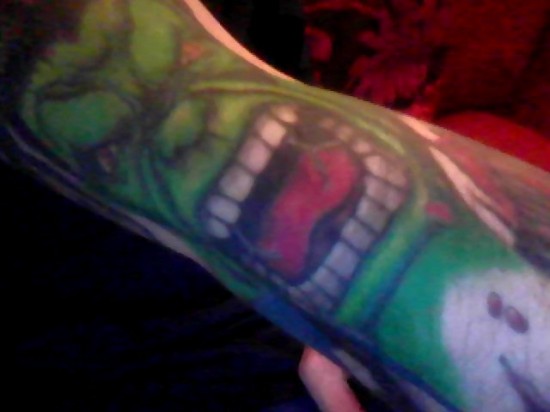 Geeks Are Sexy has a huge gallery of superhero themed tattoos such as this Incredible Hulk above.IO9 is one of several sites with reviews of Batman: Year One and they say the real star of the film is Breaking Bad star Bryan Cranston as Commissioner Gordon. For new photos of the flesh and blood Gordon, go to the end of this post.
One of the most famous real life superheros, Phoenix Jones, has been arrested in Seattle for assault. Head to The Hollywood Reporter for more.
Due to the amount of graphics and images included in Superhero Bits, we have to split this post over THREE pages. Click the link above to continue to the second page of Superhero Bits.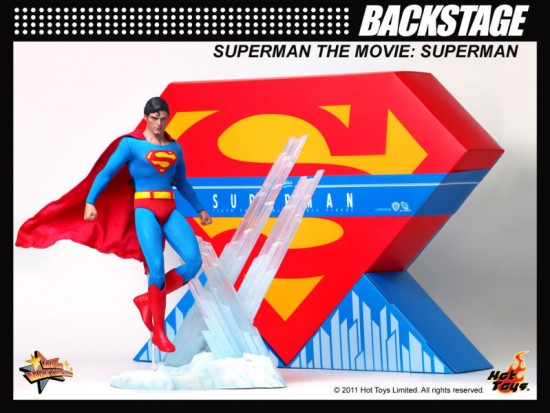 Hot Toys' Superman is coming out soon and they just revealed the gorgeous box this incredible toy will be coming in. Thanks to Action Figure Insider.
A new documentary called A Never Ending Battle, about superheroes and the history of comic books, will premiere at New York Comic-Con this weekend. Head to Action Figure Insider for more info.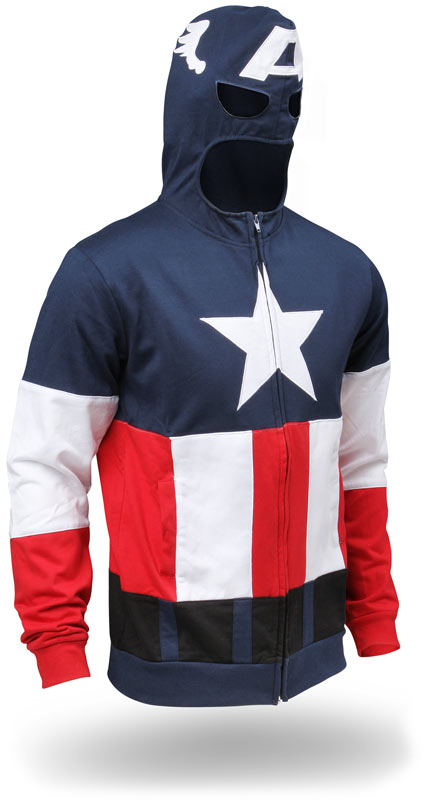 Are you chilly but also patriotic? ThinkGeek shows us this inevitable Captain America Hoodie.
The guys at Total Film are huge Spider-Man fans. They've come up with an incredibly impressive list of the 40 Greatest Moments in Spider-Man history, combining movies, comics and more.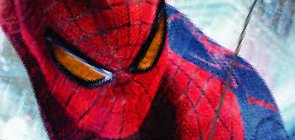 Comic Book Movie says this and a few other pieces of art are actually leaked from upcoming Amazing Spider-Man promos. We're skeptical.Nacho Vigalondo gave Crave Online an update on his adaptation of Mark Millar's Supercrooks. There's a bunch in the interview and here's a taste:
I'm involved in Supercrooks and Windows. Those are my next projects and it really depends on them what comes first. Those are two projects are in a really advanced situation. I didn't write them. The scripts are already made so I hope they happen. Supercrooks is not a superhero film. It's a supervillain film. Mark Millar explained to me that when you watch The Godfather, it's about criminals all the time. You don't get to see the cops in those films. It's always about the mafia. In this case it's the same. We're going to show only supervillains and not superheroes. Superheroes are in the background.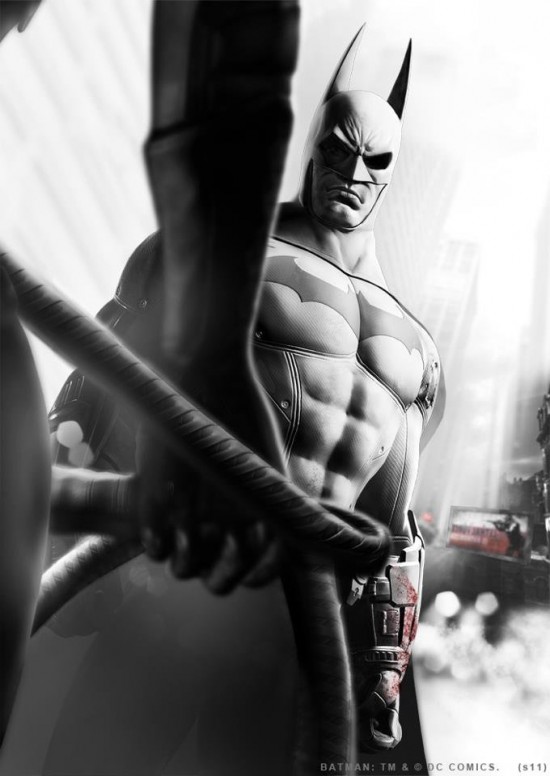 Very cool promo image from Batman: Arkham City thanks to the Arkham City fan site via CBM.
THE NEXT PAGE CONTAINS MINOR SPOILERS THE DARK KNIGHT RISES AND MAN OF STEEL AND A POSSIBLE MAJOR ONE FOR R.I.P.D.
Due to the amount of graphics and images included in Superhero Bits, we have to split this post over THREE pages. Click the link above to continue to the third page of Superhero Bits.
[No photo]
Check out Gary Oldman's Commissioner Gordon in his street clothes on the set of The Dark Knight Rises thanks to Comic Book Movie.
[No photo]
Superhero Hype ran this photo from the set of R.I.P.D showing Kevin Bacon in a motion capture suit. He's the villain of the piece so, I guess he's not always human.SHH also posted this cool car crash from the set of R.I.P.D.
[No photo]
Amy Adams is on the set of Man of Steel and Superhero Hype has posted a bunch of photos of her and some vehicles and stuff.