Javier Bardem Confirmed For 'Bond 23'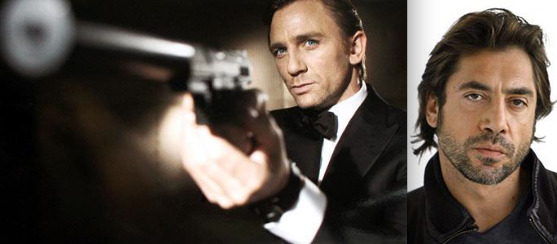 We're still in the grey zone with respect to real news about the next James Bond film. Rumored to be called Skyfall, we're still just calling it Bond 23 for now. There will be a press conference early next month to announce the beginning of production, at which point we'll likely get a batch of official info.
But for now, we'll take a statement from Javier Bardem confirming that he's playing the bad guy in the movie. (Or one of the bad guys, at least.) Along with that confirmation, there are confirmations that French actress Berenice Marlohe will be in the film, as will Ben Whishaw (who is shooting the Tykwer/Wahcowski Cloud Atlas right now) and Harry Potter's Helen McCrory.
Get Bardem's statement and another rumor about Bond 23 after the break.
In an interview with Nightline on ABC (video below), Bardem was asked about playing the villain in Bond 23, to which he said,
I am very excited, my parents took me to watch the movies, and I saw all of them, and to play that is going to be fun. They chose me to play this man, but I cannot give you many details.
I won't speculate on what his role might be, but then there's also the rumor that the end of the film will be shot at Duntrune Castle in Argyll, Scotland, which will be standing in as "James Bond's ancestral home." There's a tiny bit of extra and possibly spoilerish info at the BBC — assuming it is correct at all.
So: now we've got that Sam Mendes is directing Daniel Craig in Bond 23, Javier Bardem will be a bad guy, Ralph Fiennes is still strongly rumored for the film (playing, the Daily Mail says, "a role so top secret, I swallowed a pill to make me forget what I was told") and Judi Dench returns as M, while Naomi Harris will play Miss Moneypenny.