Magnet Picks Up Christian Slater-Starring Horror 'Playback'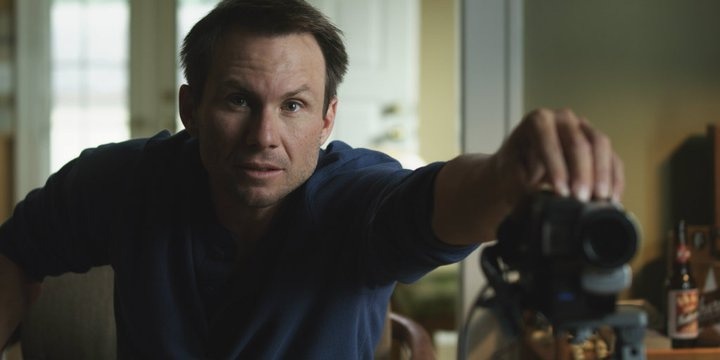 Though Christian Slater's IMDb resume shows that he's been keeping himself busy over the past few years, it's been a while since he's released a high-profile film project. (I definitely did not remember that Without Men was ever a thing until I looked over Slater's filmography.) His upcoming horror flick Playback probably won't be the one to change that trend, but if you miss seeing the True Romance star on the big screen, you'll want to keep an eye for it out during the first quarter of next year.
Magnet Releasing has just picked up the U.S. rights to the thriller, which was directed by Michael Nickles and also stars Toby Hemingway, Johnny Pacar, and rising star Ambyr Childers. The story revolves around high school students who discover a disturbing secret in their hometown's history, awakening an evil spirit. Not the most inspired of concepts, but maybe it'll be fun. Read more and watch the trailer after the jump.
[via Fangoria]
Magnet announced today that it plans to release Playback on VOD in February, before bringing the film to theaters in March. Among the other releases coming up for Magnet, the genre arm of Magnolia Pictures, are the Ti West horror The Innkeepers and Seann William Scott's hockey comedy Goon. Recent titles from the company include Tucker and Dale vs. Evil, Hobo with a Shotgun, and I Saw the Devil.
In the world's most generic statement, Magnolia/Magnet president Eamonn Bowles says, "Playback is very scary and a lot of fun. We think it will be a hit with horror fans." A short prequel for the film has been released as an e-book; head over to the film's official site for more details.
Slater's other upcoming projects include the Sean Bean-starring Soldiers of Fortune, which has yet to receive a release date; Rites of Passage, directed by Varsity Blues writer W. Peter Iliff; and Sofia, co-starring Donald Sutherland and Timothy Spall. In addition, he's got a good nine other projects in various stages of development and production. He may not be as well-known as he once was, but it seems like he's working as hard as ever.