GALLERY: Mondo's Los Angeles Mystery Movie Series Recap Including Posters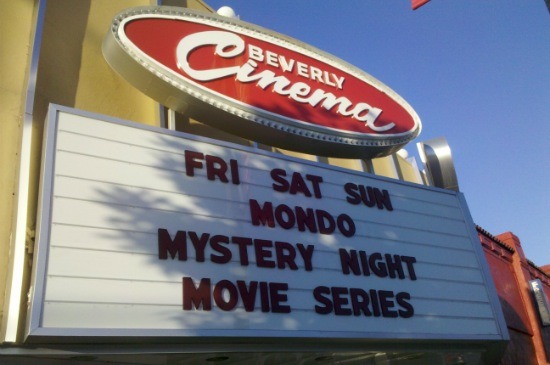 There's something incredibly exciting about the phrase "anything is possible." Waiting for something that could be anything is an exercise for your imagination. That infinite possibility, coupled with wild speculation and prediction, is ninety percent of the fun of Mondo's Mystery Movies.
Mondo, as you may know, is the ever-growing poster boutique associated with the Alamo Drafthouse. In April Mondo began a project called Mystery Movies. People buy a ticket for a movie that won't be announced until they're in the theater. That is coupled with a limited edition poster that will only ever be available at the event. So imagine buying a ticket to one of these things and speculating what it could be. You throw out suggestions with your fellow attendees, laughing at wild ones and nodding at more likely ones. Finally, you sit down for the film and all is revealed. Does it live up to your expectations?
After two events in their hometown of Austin, Texas, the Mondo Mystery Movie hit the road for the first time ever featuring six different mystery movies over one weekend at the New Beverly Cinema in Los Angeles. What were the films? What did the posters look like? What was the experience like? And did the event live up to our wildest expectations? Find out after the jump.
Here are the posters that were released. Read about each one and their movies below.
Friday night, and every night through this past weekend, the line at the New Beverly began hours early. Poster collectors lined up early just to hang with fellow collectors and engage in some wild speculation. At that point, predicting the films was impossible. Mondo's tastes run the gamut from brand new blockbusters to 1930s classics. Same goes for the poster artists. The sky was the limit.
Once everyone was seated Justin Ishmael, Mondo's creative director, described how this weekend came about. Mondo sent an e-mail to all their artists and asked for their dream list of movies. Each person sent back about 10. After crossing off movies that are too big or too obvious (Blade Runner, Ghostbusters, etc.) the lineup started to come together. To that end, it's announced that tonight is horror night.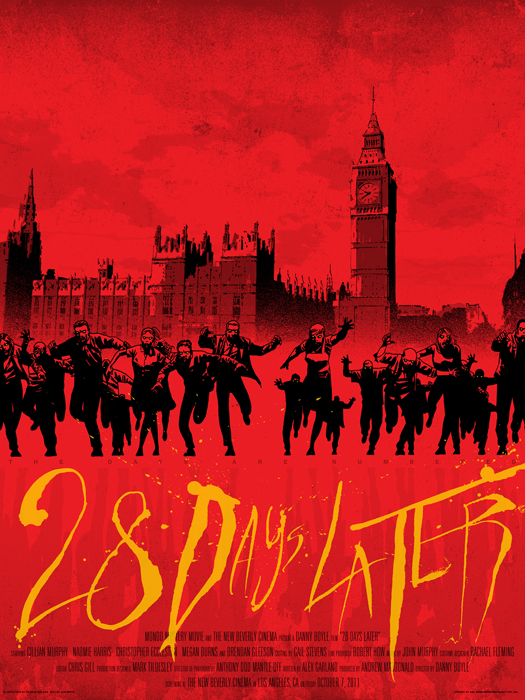 Mondo Mystery Movie III – Friday October 7. 7:30 p.m. 28 Days Later by Danny BoyleTrailers: Brain Dead, Return of the Living Dead, Evil Dead 2, Dawn of the Dead, Zombie
I'm not going write reviews of these movies because we've seen them all. Instead I'll talk about the experience of seeing them in this way. So, for example, watching Danny Boyle's 28 Days Later on the big screen again really made me appreciate how far digital filmmaking has come in a decade. Boyle's film was shot on early digital video and while the movie still plays like a dream, it looks incredibly dated for a movie made fairly recently. Awesome movie, Cillian Murphy and Brendan Gleeson are amazing in it and the visual aesthetic works for the story. But, set it against any $2000 DV film made today and there isn't a comparison.
The Poster: An 18 x 24 by Walking Dead artist Charlie Adlard and titles by Jon Smith. Ishmael said this would be the last zombie poster Adlard ever did and it's masterful. However, the Mondo team couldn't decide on which design was better so they just decided to print them both. One in an edition of 80 the other an edition of 180. Fans were given their choice of one or the other.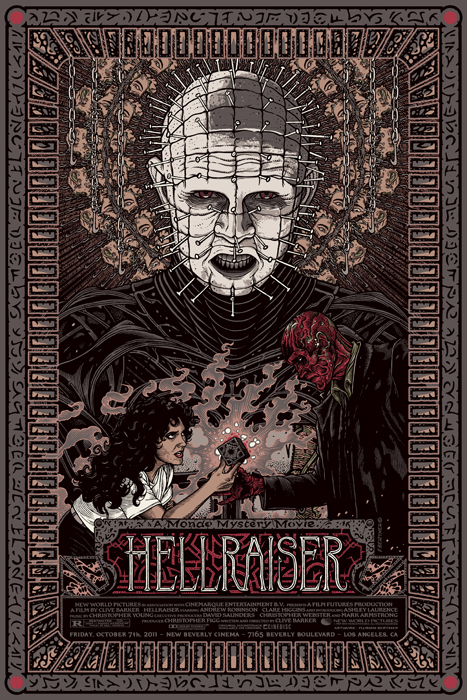 Mondo Mystery Movie IV – Friday October 7. 10 p.m. Hellraiser by Clive BarkerTrailers: The Fog, Halloween: The Curse of Michael Myers, Jason X, Candyman, Night Breed, Lord of Illusions
Apparently, film prints of Hellraiser are pretty much impossible to come by. However, Mondo (or the New Beverly, it was unclear) was able to track down a collector who had one and shipped it in special. The print was gorgeous, first run quality, and seeing this film on the big screen with an audience was a much more rewarding experience than any home viewing one I've had.
The Poster: A 24 x 36 by German artist Florian Bertmer, a huge horror fan, who is an even bigger fan of Hellraiser. Done in an edition of 245 and variant of 70.
Saturday began with a bit of an unexpected twist. Famous film critic Leonard Maltin showed up to the New Beverly adding another piece to the mystery puzzle. Unfortunately, Maltin didn't quite understand the nature of the whole mystery thing and tweeted out the name of the movie well in advance of the screening. Some were able to avoid it, but the news spread like wildfire. Before Justin could even explain why Maltin was there, we all knew.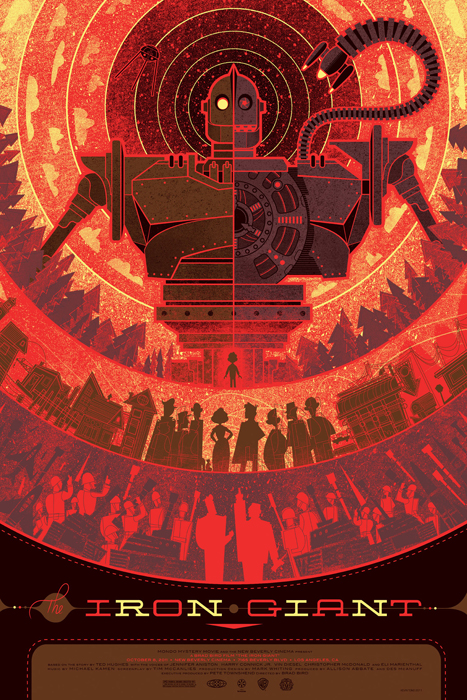 Mondo Mystery Movie V – Saturday October 8. 7:30 p.m. The Iron Giant by Brad BirdTrailers: It's Tough to Be a Bird, The Great Mouse Detective, The Aristocats, Family Dog (a short film by Bird, produced by Steven Spielberg)
Maltin introduced this now classic animated film and explained how Warner Bros. screwed up its release before the movie eventually found its audience on home video. He was confident seeing it on the big screen was a totally different experience. He was right. Bird's visuals and humor just soar in 35mm and while I'd always liked the movie before, I fell in love once again on the big screen.
The Poster: A 24 x 36 beauty by Kevin Tong done in a regular edition of 245 with the split giant and variant of 70 of the fully good giant. Just a stunning piece of work.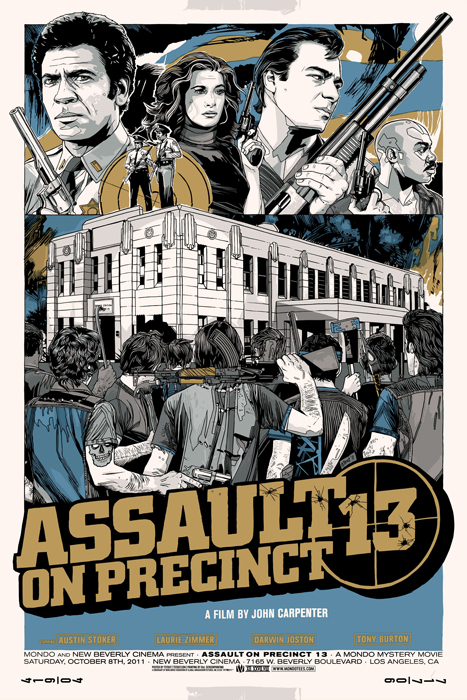 Mondo Mystery Movie VI - Saturday October 8. 10 p.m. Assault on Precinct 13 by John Carpenter
Touted beforehand as a kind of 35th anniversary screening, Ishmael announced Saturday's poster would be used for a new Blu-ray release of the film. Executive producer Joseph Kaufman brought his own archival print to the theater along with star Austin Stoker and they did the introduction, talking a little about the history behind the movie and their memories of it. Then it was time to roll.
Trailers: Vigilante Force, Conquest of the Planet of the Apes, Mad Max, The WarriorsAssault is a movie I hadn't seen in a long time so it was like watching it all over again. It was undeniably entertaining but you can tell this is early Carpenter. The film makes little to no sense in parts and features some terrible performances. Still, Carpenter's score and flair for action really keep it moving and cool. A fun, flawed, film.The Poster: A 24 x 36 by the super popular Tyler Stout. Attendees got to take home one of 245 variant editions of the poster and, unlike all the others posters, non-attendees will have a chance to buy the regular edition when the new Blu-ray is released. No word on when that will be.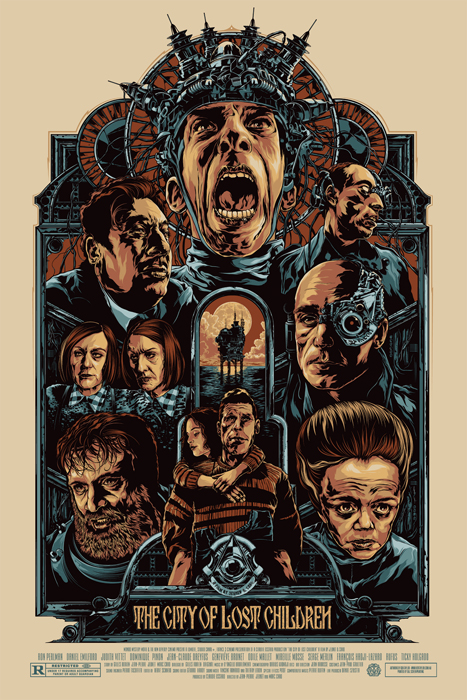 Mondo Mystery Movie VII - Sunday October 9. 7:30 p.m. The City of Lost Children by Marc Caro and Jean-Pierre Jeunet
The final day of Mondo Mystery Movies at the New Beverly Cinemas began with screenwriter Josh Olsen. He wrote A History of Violence, the currently filming One Shot and was on hand to introduce the first film. Why? I still don't know. But he was obviously a huge fan of the film at hand, which was touted as a blend of all the films we'd already seen. Plus, he and Ishmael said the movie was only ever on a handful of U.S. screens so chances are very few people had seen the movie it was meant to be seen: On the big screen.
Trailers: Zabriskie Point, Yellow Submarine, Delicatessen, AmelieThe City of Lost Children is one of those films that had been sitting on my Netflix queue for a long ass time so I was elated it played. It's a gorgeous film with some charming performances and ideas but it feels slightly uneven. There are so many oddball characters to follow and you expect all their stories to run together in inventive ways. Some do, others don't and while the film feels magical at times, at other times its a head-scratcher. The audience wasn't totally in like the other films, but the experience was rewarding nonetheless.The Poster: A 24 x 36 by Ken Taylor with a variant edition of 70 and regular edition of 245.
Mondo Mystery Movie VIII - Sunday October 9. 10 p.m. The Mist by Frank Darabont
Incredibly depressing, a bit long and fairly recent, The Mist might seem like an odd choice for a Mondo Mystery Movie. But the reasons why it played as the final film of the weekend overshadow those. It's one of Ishmael's favorite films of the past decade, it's directed by Frank Darabont, who will be the next director to get his own Mondo Director's Series. The character Thomas Jane plays is based on legendary artist Drew Struzan who, after doing a Mondo print for Frankenstein, will continue his relationship with company. His next print will be the painting Jane's character is working on in the first shot of the movie: Stephen King's The Dark Tower. Yes, you read that right. Drew Struzan is doing a Dark Tower poster for Mondo. Onto the movie.
Trailers: Carrie, Cujo, Dead Zone, Children of the Corn, Creepshow 2, Pet Semetary, Graveyard Shift, The Mangler, The Green Mile
I feel The Mist is one of the most underrated films in the past several years because the ending overshadows the rest of the movie. Darabont's third Stephen King adaptation is right in the same league as The Green Mile, and a step or two below The Shawshank Redemption, which isn't quite bad. There are some scary creature effects and upsetting social messages but the ending of the film is such a downer, you walk out of the theater only feeling that. You totally forget about the tense, thrilling ride you've enjoyed before that. It's the film's Achilles heel. Talk about a depressing, but some how fitting, ending to an awesome weekend.
The Poster: Daniel Danger did an absolutely stunning, 9 color screenprint. It's an odd size, 16 x 31, but you could stare at this thing for hours.
And just like that, the first six Los Angeles Mondo Mystery Movies came to a conclusion. Ishmael said he'd like this to be an annual thing and the crowed cheered. It was a great time for film fans and poster collectors alike.