TV Previews: 'Beavis And Butthead' Trailer, First Minute Of The 'Breaking Bad' Season Finale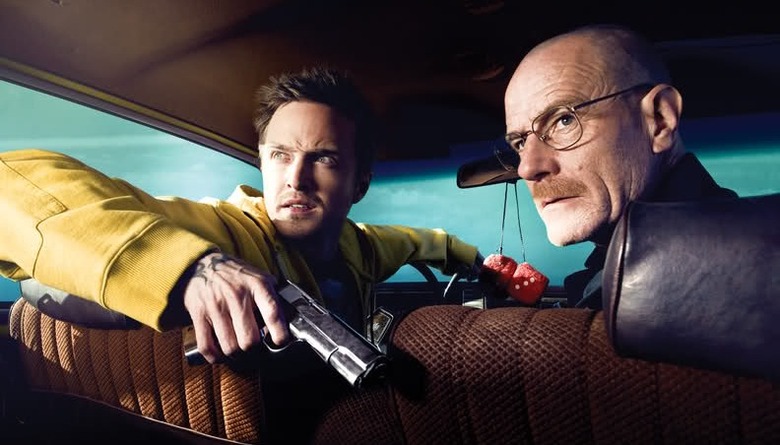 The fact that The Walking Dead is coming back next week is, without a doubt, exciting. It's not as exciting, though, when you realize that means this Sunday is the fourth season finale of Breaking Bad.
Just when you thought AMC's award-winning show couldn't get any better, show runner Vince Gilligan delivers a season that has pretty much seen our two main characters, Walt and Jesse, almost on totally different shows, each going through their own personal hell as things slowly spiral out of control. Star Bryan Cranston was on Marc Maron's WTF Podcast Thursday and dropped some insane teases about Sunday's finale plus, Hitfix got their hands on the first minute of the episode. We've got all of that after the break.
But if millionaire meth magicians with their lives on the line isn't your thing, you should still click below the jump. That's where you can see a hilarious trailer for the return of everyone's favorite MTV cartoon Beavis and Butthead from the mind of Mike Judge.
We'll start with Beavis and Butthead so the Breaking Bad semi-spoilers are all the way down. Thanks to Vulture for this clip.
I must admit, I laughed out loud at the Twilight/werewolf transformation and Jersey Shore trashing. I'll definitely be watching come October 27.
Now onto Breaking Bad. Thanks to Hitfix, here's the first minute of Sunday's finale.
And, if you care to read it, below are Bryan Cranston's quotes from the WTF Podcast courtesy of The Wrap. He's not specific, but it's a little more revealing than one could want. He said how, but not specifically what, the season ends with.
Spoilers coming:
There is an oh... my... GOD moment — almost near the end. It's, like, hold your head, you can't believe what you just saw. ... Then, there's a scene with two characters that tie up some loose ends, answer a couple of the questions that were lingering, and that's resolved.
And then almost insignificantly, almost forgettable, the last scene, there is no dialogue. There are no actors. It's a familiar exterior scene if you've watched the show. You'll recognize the place, exterior shot, and you don't even know really what you're looking at. You're looking at something that's like, yeah, so? And the camera slowly pushes in, pushes in, pushes in, and you don't even know where it's going, it's innocuous. And then all of the sudden it rests on an object. And once you recognize, and understand the meaning of that object, you hold your head, once more, and go: NO! HOLY SHIT! NO! Blackout. End of the season.
Still here? I kind of wish I hadn't read that but it certainly got me even more excited for Sunday if that's possible. Breaking Bad is amazing with its finale cliffhangers and hopefully this is no different.