'Happy Feet Two' Theatrical Trailer – Elijah Wood Makes A Dancing Escape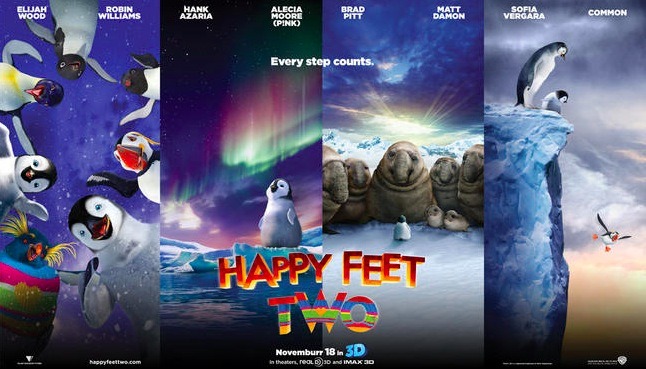 The first trailer for Happy Feet Two was the epitome of the word "teaser." It was little more than a bunch of penguins dancing in unison to Justin Timberlake's Sexy Back. With the film's release date now just over a month out, Warner Bros. has finally released a full, theatrical trailer that not only gives us an idea of the story also samples the almost mind-blowingly impressive voice cast this time around (Elijah Wood, Robin Williams, Brad Pitt, Matt Damon, Hank Azaria, Sofia Vergara, Pink, Hugo Weaving). Plus, it proves that these Happy Feet movies are about much more than dancing. Don't worry, though. There's still plenty of dancing. Check it out after the jump.
Thanks to Yahoo Movies for the trailer.
The reason there's a Happy Feet Two at all is because the first film used that dancing penguin gimmick to tell a really good story. For this sequel, it seems like director George Miller is doing more of the same, blending a father son story with an environmental disaster. And I must admit, while watching this trailer I was rolling my eyes until I realized those two shrimp were voiced by Brad Pitt and Matt Damon. Their inclusion in this movie certainly makes it more appealing.
Here's the official plot description of the IMAX 3D release:
Mumble, The Master of Tap, has a problem because his tiny son, Erik, is choreo-phobic. Reluctant to dance, Erik runs away and encounters The Mighty Sven — a penguin who can fly! Mumble has no hope of competing with this charismatic new role model. But things get worse when the world is shaken by powerful forces. Erik learns of his father's "guts and grit" as Mumble brings together the penguin nations and all manner of fabulous creatures — from tiny Krill to giant Elephant Seals — to put things right.
Happy Feet Two will be released November 18.