First Look: Julia Roberts, Armie Hammer And Lily Collins In Tarsem's 'Snow White'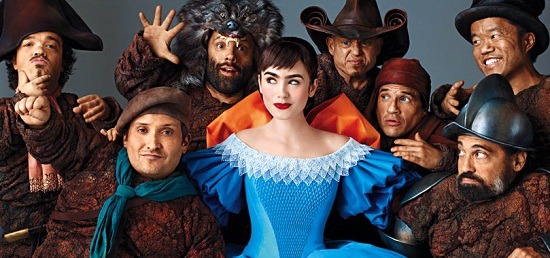 Two Snow White films have been in production since summer, and we've already seen images from one, the action-oriented Snow White and the Huntsman, starring Kristen Stewart as Snow White. Now here are the first images from the other, Relativity and Tarsem's currently untitled Snow White movie starring Julia Roberts, Armie Hammer and Lily Collins.
These pics show Collins as Snow White, surrounded by dwarfs; Julia Roberts as the Evil Queen; and Armie Hammer as the prince. They suggest a sort of family-friendly comedy. We knew the film would have a comedic tone, but this is more bright than I expected. Check out more images below.
EW debuted the shots, and recaps that the film features a ball in which Snow White enters the Queen's court as she tries to get the Prince to help her overthrow the Queen. The Queen, meanwhile, is trying to kill Snow White, and Tarsem says of Roberts' character,
She outsources her evil, just like most people... I wanted a person who is just schizophrenic. She's a person who would just do all the evil she needs to do to stay in power.
And then there are the dwarfs, who are stilt-wearing bandits who rob caravans — local legends have it that the bandit crew is made up of giants rather than dwarfs. They're played by Jordan Prentice, Joey Gnoffo, Sabastian Saraceno, Martin Klebba, Mark Provinelli, Ronald Lee Clark and Danny Woodburn.
The real stars of these photos are the costumes, by Oscar-winning designer Eiko Ishioka, who worked on Bram Stoker's Dracula and Tarsem films The Cell, The Fall and Immortals.
Snow White will be released on March 16, 2012.
In Relativity's Untitled Snow White starring Oscar®-winner Julia Roberts and breakout star Lily Collins (The Blind Side), an evil Queen (Roberts) steals control of a kingdom, and an exiled princess (Collins) enlists the help of seven resourceful rebels to win back her birthright in a spirited adventure comedy filled with jealousy, romance, and betrayal that will capture the imagination of audiences the world over.  The film also stars Armie Hammer (The Social Network) as the object of their affection, Prince Andrew Alcott, and Nathan Lane (The Birdcage) as the hapless and bungling servant to the Queen.