Javier Bardem To Voice Villain In 'Despicable Me 2'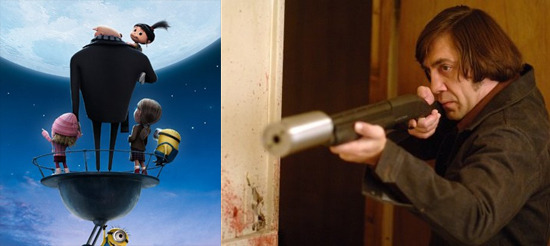 An Oscar-winner known for calling people "Friend-O" could soon be playing an animated character name "El Macho." Javier Bardem, best known for his villainous turn in the Coen Brothers' No Country For Old Men is in negotiations to voice the bad guy in Despicable Me 2, the 3D animated sequel to the 2010 hit starring Steve Carell. That first film was about a wannabe super-villain named Cru who became a hero because bonded with three little kids and this one will continue the adventure as Cru and his family go up against El Macho and his son, Machito. It's scheduled for release on July 3, 2013. More after the break.
The Hollywood Reporter broke the news of Bardem's negotiations, which would be the actor's first foray into animation. Being as he's still negotiations though, it's definitely not a sure thing, especially with the kind of luck Bardem has had recently. He's still attached to The Dark Tower even though the property is currently floating in the wind, looking for funding and though he's supposedly confirmed to star in James Bond 23, with a release date just over a year away and little to no news outside of a possible title, I'm beginning to have my doubts.
Still, with that voice and Bardem's obvious ability to be either sweet or incredibly sinister, Despicable Me 2 directors Pierre Coffin and Chris Renaud would be lucky to land the actor.
This is the first we've heard about any of the plot of Despicable Me 2, though, and as our friends at Cinemablend wisely point out, the first film was fine, but lacked a truly threatening villain. It was really more about Cru finding himself. Now that he's a full fledged good guy family man, it'll be fun to see him go up against an evil family man, just like he was in the first film.