'Tower Heist' Will Be Released On Demand Three Weeks After Theatrical Release For $59.99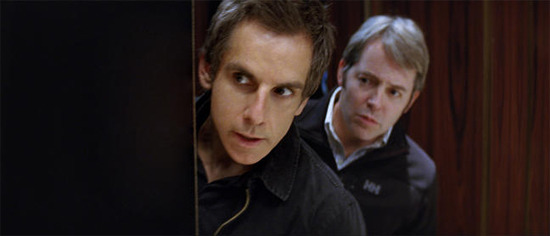 It's oddly fitting that a movie about robbery is now poised to rob theatrical exhibitors of their box office dollars. In the most bold experiment of Premium On Demand yet, Universal will experimentally release Brett Ratner's Tower Heist, starring Ben Stiller and Eddie Murphy, on demand to two targeted markets a mere three weeks after its release on November 4 at a reported cost of $59.99. It'll be the first time home viewers can watch a movie at home while it's still on thousands of screens across the country.
Earlier this year, theater owners and filmmakers alike were up in arms when several studios agreed to play their films on demand two months after their theatrical debut at a cost of $30. Even at double that price, those parties are sure to be furious about the shorter window. And though this is just a test, it's another inevitable step in the wrong direction. We'll explain more after the break.
The Los Angeles Times broke this news and say that the film will only be available to Comcast customers (that's Universal's parent company) in Atlanta, GA and Portland, OR, which makes up about half a million people. Other cable providers in those areas will also have the option to carry the film, but no decisions have been made yet.
What Universal is hoping to find out by releasing Tower Heist in this manner is how much money they can make versus how much, if at all, it will affect box office receipts in those cities. The target audience is families who might be interested in seeing the film, but not interested in driving to the theater, ticket prices and buying concessions. If the numbers work out, there's a chance other studios could follow suit or take things to the next level.
Studios used to be able to count on a certain amount of revenue when a film hit the home market but with the decline in the rental community, and especially the decline in DVD purchases, they're hoping On Demand will be able to compensate. The DirecTV Premium On Demand service has reportedly been largely inconsequential for both the studios and cable provider, suggesting either $30 is too much to spend or two months is too distant a time from when a movie is in the public conscious. The $60 and 3 weeks changes both those variables and – no matter what the results – is further proof the studios are determined to find a sweet spot where people are willing to pay premium prices for new movies at the expense of the theatrical experience.
Whether or not you live in Atlanta or Portland, can you see any scenario where you'd pay $60 to see Tower Heist three weeks after release? Take that question a few steps further. If Warner Brothers charged you $100 to watch The Dark Knight Rises two weeks BEFORE release would you do it? Because  – ladies and gentleman – that's where this is headed.