Could 'The Thing' Director Matthijs Van Heijningen Still Make Zack Snyder-Developed 'Army Of The Dead'?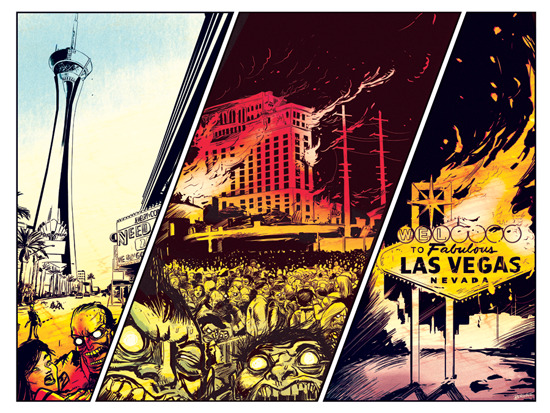 Several years ago, when Zack Snyder was still making Watchmen, the director started talking about a zombie movie that he had been developing. The project was called Army of the Dead; it was written by Joby Harold and quickly attached director Matthijs van Heijningen. But the project stalled, and some time later van Heijningen went on to make The Thing for Universal.
But Army of the Dead may not yet be buried; seemingly it has a chance of going forward again at Warner Bros. That's according to van Heijningen, who also says the film would have some pretty extreme zombie behavior. And by that, I mean zombie rape. Nasty. Read on for the details.
Army of the Dead is set in Vegas, where a woman is trapped in the city as she attempts to learn the origin of a zombie outbreak. Her father tries to rescue her with the aid of a mercenary group. But the mercs have their own ideas, which are fixated on the loot sitting around in Vegas casinos.
Speaking to io9, van Heijningen described some of the basics of the project:
...it's a very expensive movie. Because it's about Las Vegas being taken over [by zombies] and the government builds a wall around Las Vegas [quarantining the city.] The city is torn to pieces, and a helicopter crashes in the Bellagio Lake. But it's a good story. I hope it stays alive.
He then went on to add some detail that will make some of you recoil in horror:
There's an extra dimension to this zombie film, because they.... they.... I'm still wondering if I should tell this.... the male zombies rape human females. Yes. And they have human hybrid zombie offsprings. It's a new take on the zombie genre, which is crazy.
Some of the same details came out via STYD and The Playlist, as all the outlets got a chance to talk to the director as he starts to promote The Thing. To the latter, he said, "so maybe [Army of the Dead is] going to be revived, because it's a good project." Not the most optimistic update yet, but after The Thing opens in a couple weeks we might get a better idea. Still: is Warner Bros. really going to make a film featuring human-raping zombies?
Note: I'm re-using an image by Joseph Bergin III as the header for this article, because it's a great piece of Zombie/Vegas work. It is, however, not related to the film. Check out his work on DeviantArt!