'The Simpsons' And 'Dexter' Could End This Season Due To Contract Disputes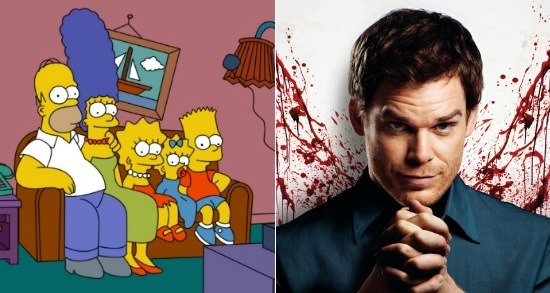 What's the one thing that can destroy both a yellow-skinned family and a sympathetic serial killer? Money. According to reports, contract disputes between the networks and casts of both The Simpsons and Dexter have put the future of each show in serious jeopardy.
In regards to The Simpsons, Fox executives have said they won't renew the show for a 24th season unless the six primary voice actors, who make about $8 million each per year, cut their salaries by 45%. Then there's Dexter. Showtime and its star Michael C. Hall have reached a contract impasse that could make this season, which just returned with record numbers, its last. We have more details on each show and dispute after the break.
The Daily Beast first reported the news on The Simpsons ultimatum. Here's the statement released by Fox:
23 seasons in, The Simpsons is as creatively vibrant as ever and beloved by millions around the world. We believe this brilliant series can and should continue, but we cannot produce future seasons under its current financial model. We are hopeful that we can reach an agreement with the voice cast that allows The Simpsons to go on entertaining audiences with original episodes for many years to come.
According to the article, the actors are willing to cut their salary by a third in exchange for a small percentage of the incredibly lucrative merchandising and syndication deals but that wasn't good enough. Fox simply feels the show will continue to make money even if new episodes aren't on the air, so paying the actors $8 million a piece isn't viable. There are a whole bunch of other details and quotes over on The Daily Beast.
The Dexter situation seems to be a little more manageable, according to Deadline. The sixth season is about to wrap and Hall's contract is up when that happens. He wants $24 million for two more seasons but Showtime is only offering $20 million and negotiations reportedly broke down over that amount. There are several things that could happen: Either side could cave, they could meet in the middle, or Hall could just sign for one more year. He doesn't want to stay on TV forever but is committed to the show.
Can you imagine either of these deals not getting worked out? As I said, the Dexter one doesn't seem as significant but a 45% cut in salary is huge over on The Simpsons. Do you think that'll happen? Can you imagine money being the issue that ended the longest running sitcom of all-time?