Steve Martin And Alec Baldwin Could Reteam In Adam Shankman Comedy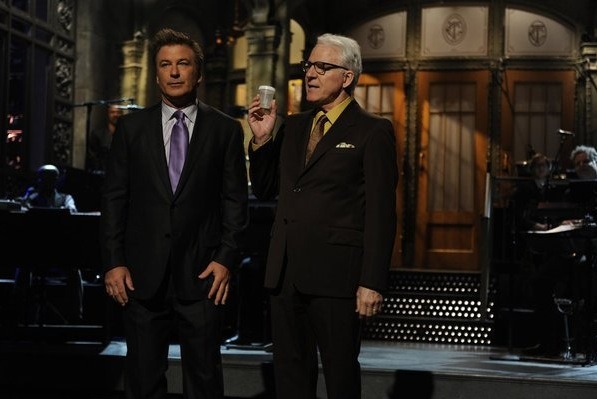 Everyone has heard of Martin and Lewis, but soon Martin and Baldwin might too become a duo synonymous with comedy. Steve Martin and Alec Baldwin demonstrated great comedic chemistry as hosts of the Academy Awards, as well as in the hit film It's Complicated, and even on Saturday Night Live. Now, New Line Cinema is looking to purchase a pitch that would team them up for a film, produced and directed by Adam Shankman, blending elements of Trading Places and Grumpy Old Men. There's more after the jump.
Deadline reports the news of the possible deal which is still very early – there's no writer or anything – but is looking fairly likely.
Shankman was the director of the Oscars the year Baldwin and Martin hosted and just finished shooting Rock of Ages with the 30 Rock Emmy winner. He apparently got the idea to team them up on the big screen (again – let's not forget It's Complicated here, Shankman) when he saw Steve Martin pop in on Saturday Night Live when Alec Baldwin cracked his hosting record a few weeks back. Here's the video of that:
The chemistry is certainly there and with Baldwin most likely leaving 30 Rock after this season, it seems like a good fit for these two legendary comedic actors to team up and make a go of it. They're both very well liked and Martin could certainly use something to give his film career a shot in the arm. From what I've heard, The Big Year isn't going to be it.
Do you think a movie pairing these two can be successful with a wide audience or will it be limited to people who remember each in their heyday? Is Baldwin still in his heyday?