First Look: Russell Crowe As Jor-El In 'Man Of Steel'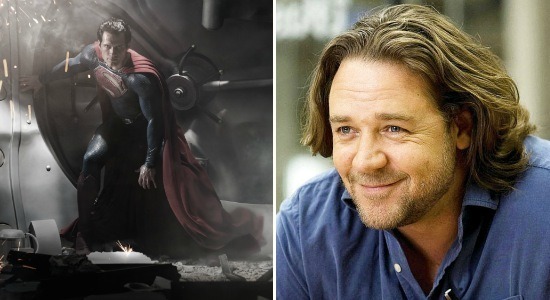 Superman's daddy has been unveiled. Russell Crowe, who is playing Jor-El in Zack Snyder's Man of Steel, has been captured on set in his full costume and it's, well, you should just click below and check it out.
Thanks to The Daily Mail (via Coming Soon) for these images.
So, what do you think?
I can safely say that was not what I expected. It certainly conveys a sense of importance and power but, unlike the colorful, muscular costume we've seen Superman (Henry Cavill) sporting, this has an almost Chronicles of Riddick look to it. A more organic feel blending armor with evening wear.
The two costumes do seem to be related though. While Kal-El's muted red and blue is more rounded and form fitting, it certainly has a similar, organic look to it. Jor-El's almost looks like the grown up version of that. It's looser, it's darker, it's almost like what happens to human skin or hair as you grow older. Is that what the costume designer was going for or did they just want something that said "regal" and "Krypton." We probably won't know until 2013 but you can make a case for both.
Are you into this costume? Do you think this is the full thing or will there be CG elements added like with General Zod?