Netflix Adds Another Original Series: 'Lilyhammer,' Watch The Trailer For The Gangster Show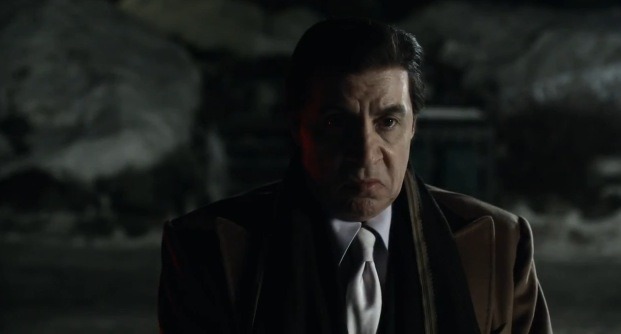 Netflix is all in with this original programming thing. They already acquired the rights to the David Fincher/Kevin Spacey produced show House of Cards, are interested in exclusively airing the rumored next season of Arrested Development and have now picked up a Norwegian-produced TV show called Lilyhammer. They show stars Steven van Zandt (The Sopranos, Bruce Springsteen's E Street Band) as a Mafia informant who chooses to move to Norway as part of the Witness Protection Program.
Watch the trailer for the show and read its full, official description after the jump.
Deadline reported Netflix's acquiring of the show, which will exclusively air on their service sometime in the future. This trailer comes from the official site of the production company, Seven One International.
The site also has a description of the show with a lot more detail:
After Frank "The Fixer" Tagliano testifies against his Mafia boss in New York, he enters the Witness Protection Program and makes an unusual demand: he wants to be set up with a new life in a small town in the Norwegian countryside called Lillehammer. A sports fanatic, he had fallen in love with the place while watching the '94 Winter Olympic Games. Now, he is hoping that "Lilyhammer", as he pronounces it, will offer him more than "clean air, fresh white snow and gorgeous broads". He knows he is a marked man and figures nobody will ever find him there. That was his second mistake – the first was ratting out the Delucci Family.
But vengeful gangsters are only a part of his problems. Adjusting to the Scandinavian way of life is driving him crazy! At least he has a great Norwegian teacher, Sigrid, with whom he shares a passion far beyond books. Of course, once a mobster, always a mobster – it is not long before Frank gets involved in shady dealings with the ex-Olympic "test jumper" Torgeir Lien and the local lawyer and businessman Julius Backe.
Here, cops are of an altogether different variety. Lillehammer's calm and sensitive sheriff, Laila Hovland, is far more interested in crime prevention and education than solving cases... and boy can she bake! Yet another cop, Geir Tvedt, spends his spare time heading up the band "Geir Elvis and His Cell Mates"!
Of course, somebody has to try keeping Frank on the right path – a job that falls to his counselor at the local unemployment office, Jan Johansen, who specifically handles immigrants and asylum seekers, and who is a stickler for regulations!
Thrust into a brand new world forcing out a new side of his personality – and offers ample opportunities for an old one – Frank is confronted with a colorful cast of characters totally unlike the New York variety. But as he soon finds out, the past always has a way of catching up with you, especially when it concerns the Delucci family...
Sounds like a pretty compelling series and with Netflix really buying into their streaming content, it could be a major hit. Do you agree?