Paramount And New Regency To Make Darren Aronofsky's $150 Million Biblical Epic 'Noah'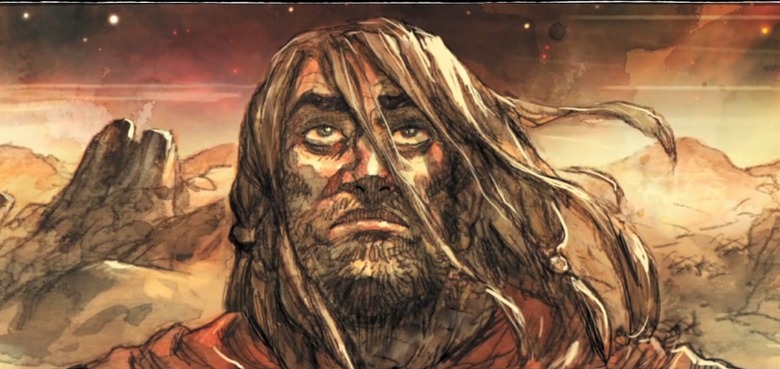 Paramount and New Regency jointly announced today that they will distribute Darren Aronofsky's long gestating biblical epic Noah — a big screen adaptation of Noah's Ark that Darren has been developing since he was 13-years-old. The deal between Paramount and New Regency was previously reported on the site when the deal was in talks, but it has now been confirmed. 20th Century Fox was also bidding on the project, which has a reported $150 million budget. John Logan (Gladiator, The Aviator) is currently working on rewrites of the script; Christian Bale has been rumored as a top choice to play the lead.
When Darren Aronofsky was 13-years-old, he won a United Nations poetry competition at his Manhattan Beach, Brooklyn school for a poem about the end of the world as seen through the eyes of Noah. And so started Aronofsky's obsession with the biblical figure. In September 2008 we talked to Aronofsky about his idea for a film based on Noah:
"It's the end of the world and it's the second most famous ship after the Titanic. So I'm not sure why any studio won't want to make it," said Aronofsky. "I think it's really timely because it's about environmental apocalypse which is the biggest theme, for me, right now for what's going on on this planet. So I think it's got these big, big themes that connect with us. Noah was the first environmentalist. He's a really interesting character. Hopefully they'll let me make it."
Aronofsky has released a new comment with the press release:
"Since I was a kid, I have been moved and inspired by the story of Noah and his family's journey.  The imaginations of countless generations have sparked to this epic story of faith. It's my hope that I can present a window into Noah's passion and perseverance for the silver screen," said Aronofsky.
Darren has called the project a "big event film"and says the story is "not PG in any way."
"I don't think it's a very religious story... I think it's a great fable that's part of so many different religions and spiritual practices. I just think it's a great story that's never been on film." ... "He's a dark, complicated character. The tragedies we perform on each other are so well reported. Quite clearly, the planet is dying, and we are dying on it."
Warner Bros was courting Aronofsky for Gods and Kings, a new big screen retelling of the biblical destroy Moses. The script by Michael Green and Stuart Hazeldine was recently read by Steven Spielberg who is considering the project. Seems like religious epics might be making a comeback in a big way.
Aronofsky has been working to make this movie for years. Last year the filmmaker hired Canadian artist Nico Henrichon (who illustrated Brian K. Vaughan's Pride Of Baghdad) to adapt the story into graphic novel form. Darren is trying to use the world of graphic novels as a backdoor into getting the movie made. And this wouldn't be the first time that Aronofsky has turned to the world of comics. His initial version of The Fountain was released in graphic novel form by Vertigo Comics in 2005 after Brad Pitt left the project high and dry. Check out some preview art from the book below: