New 'Walking Dead' Promos Feature Crucifixions And Machetes In Heads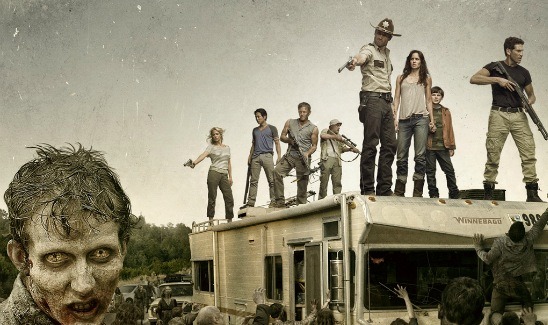 After what feels like forever, The Walking Dead is finally coming back to AMC on October 16. Of course, it comes at the expense of the unbelievably awesome Breaking Bad, whose fourth season finale is the week prior, but Sunday night zombies are a pretty nice consolation for Sunday night meth.
AMC is starting to promote the hell out of their biggest hit making its triumphant (we hope) return for a full season after the short first one and two new promos reveal that, this year, things get way more violent and way more upsetting. Sounds good to me. Check them out after the jump.
Thanks to io9 for these killer promos, pun very much intended.
Here's a quick show primer from the AMC website in case you haven't seen season one.
AMC's critically acclaimed original series, The Walking Dead, is back with its much anticipated second season. When we last left the The Walking Dead, the characters were in the midst of a high-intensity struggle to survive, fleeing the CDC as it burst into flames. In Season 2, they are still on the move, facing more threats and obstacles than ever. Led by a remarkable ensemble cast and crew, Season 2 premieres with a 90-minute episode on Sun., Oct. 16 at 9/8c.
Based on one of the most successful and popular comic books of all time, written by Robert Kirkman, AMC's The Walking Dead captures the ongoing human drama following a zombie apocalypse. The series follows a group of survivors, led by police officer Rick Grimes, played by Andrew Lincoln (Love Actually, Teachers, Strike Back), who are traveling in search of a safe and secure home. However, instead of the zombies, it is the living who remain that truly become the walking dead. Jon Bernthal (The Pacific, The Ghost Writer) plays Shane Walsh, Rick's sheriff's department partner before the apocalypse, and Sarah Wayne Callies (Prison Break), is Rick's wife, Lori Grimes. Additional cast include: Laurie Holden, Steven Yeun, Norman Reedus, Jeffrey DeMunn, Chandler Riggs, Iron E. Singleton and Melissa McBride. Guest stars include: Lauren Cohan, Scott Wilson and Pruitt Taylor Vince.
The first season of The Walking Dead won the Saturn Award for Best Television Presentation and was nominated for Best Actor on Television (Andrew Licoln), Best Actress on Television (Sarah Wayne Calllies), Best Guest Starring Role on Television (Steven Yeun), and Best Supporting Actress on Television (Laurie Holden). It also received a Director's Guild Award nomination for Outstanding Directorial Achievement in Dramatic Series' — Night (Frank Darabont), a Golden Globe nomination for Best Television Series — Drama, and a Television Critics Association Award nomination for Outstanding New Program of the Year. In addition, The Walking Dead recently won the Emmy award for Outstanding Prosthetic Makeup for a Series, Miniseries, Movie or a Special; and was nominated for Emmys in Outstanding Sound Editing for a Series and Outstanding Special Visual Effects for a Series.
Though it means Breaking Bad is done until next Summer, I'm very encouraged and excited by these promos. Do you agree?