Check Out An Alternative Opening To 'Scream 4'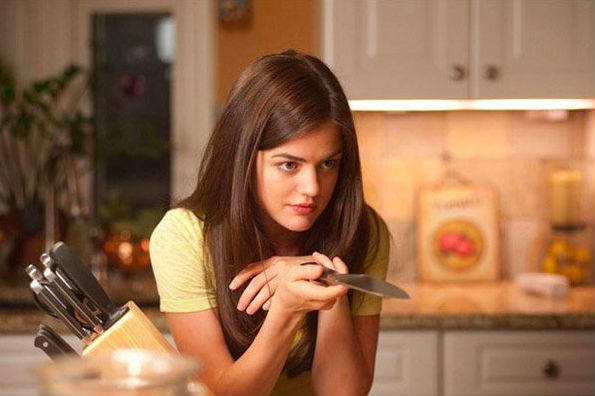 One of the staples of the Scream franchise is the huge twist before the opening credits and that trend continued with Scream 4, which hits Blu-ray Tuesday. In fact, I think the first few minutes are by far the best of Scream 4. They're clever, surprising and filled with the type of self-reference and cameos that made the series great. Unfortunately, the film slowly drops off after that.
We now know one of the changes director Wes Craven made to the film thanks to the extras on the new disc. He radically changed a segment of the opening. Is it for better or worse? Decide for yourself.
Thanks to Scream Trilogy (via Shock Till Ya Drop) for the heads up. If you head there, they have all of the deleted scenes from the movie embedded. Obvious spoiler warning for the rest of this post.
Without a beginning of this clip, we're lead to assume the first two segments of the opening featuring Lucy Hale, Kristen Bell and others watching scenes from the Stab sequels are probably the same as the finished film and that this, the actual murder, is the only part that's changed. In the final film, this scene starts the same. However when Jenny goes downstairs to investigate, Marnie doesn't pretend like she's dead, she actually is. Then Ghostface stalks and kills Jenny interspersed with a bunch of dialogue about blondes in horror movies.
I must say that despite the extra few moments of doubt and deceit in this version, the one in the final film is better. The audience had already been fooled a number of times by this point and it was time to get to the killing. Here, it's just dragged out and the kills aren't that scary. And frankly I'm still curious about this version of the opening which too didn't make the final cut.
Which opening do you prefer? Do you understand why Craven made the change?