Superhero Bits: The Dark Knight Rises, Inhumans, Man Of Steel, The Wolverine, Deadpool, George Clooney, Batman Arkham City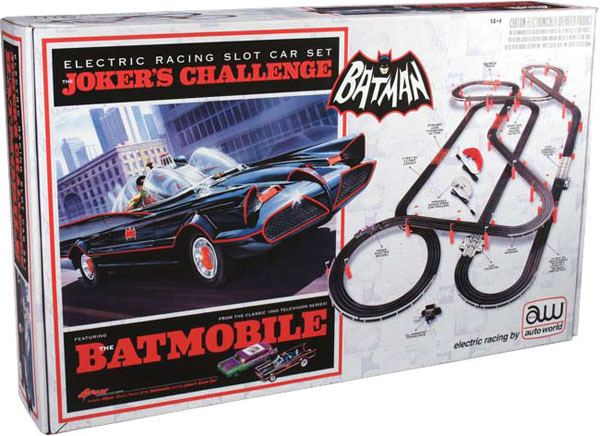 How does George Clooney describe his Batman and Robin experience in retrospect? What does Michael Shannon have to say about the alien sets in Man of Steel? Which Marvel comic could, surprisingly, get a film adaptation? What have Christopher Nolan and The Dark Knight Rises crew been up to? Does Hugh Jackman like the new changes to The Wolverine script? Did Professor X pen a comic book for superheroes who go through puberty? Is Deadpool a fan of the Star Wars prequels? Read about all of this and more in today's Superhero Bits.

My Confined Space has posted this very cool image called Comic Collection. Visit the site for the hi-res version.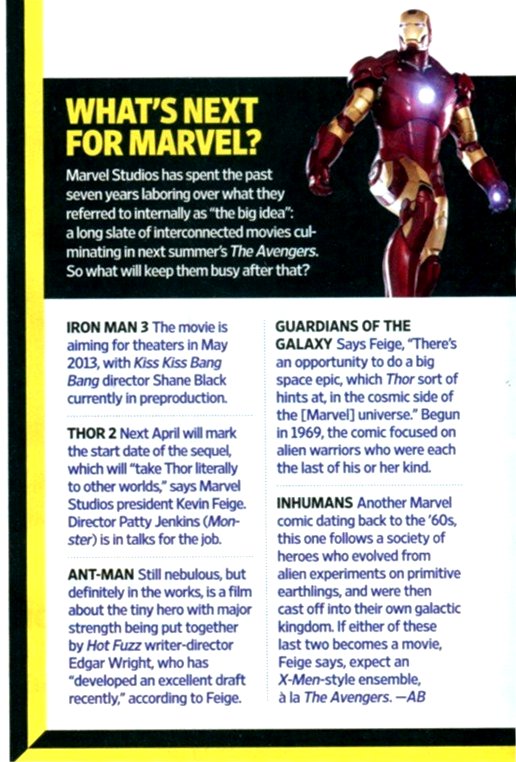 In case you couldn't pick up this week's Entertainment Weekly, Comic Book Movie has scanned this sidebar about the upcoming Marvel movies, most surprisingly, Inhumans.
Idris Elba spoke to Attack of the Show about his work in Ghost Rider: Spirit of Vengeance and said it brings comic book style to life.
If you were one of the people who thought Emma Frost dressed a little too risque in X-Men First Class you'll love this video by Monkey & Apple (via Nerd Bastards).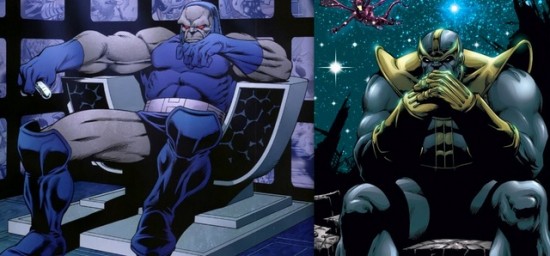 So many comic book readers say they're either DC or Marvel fans but, according to this list over on Topless Robot, sometimes they're almost identical. They've listed their 10 Bizarre DC/Marvel parallels including the one above, Darkseid and Thanos.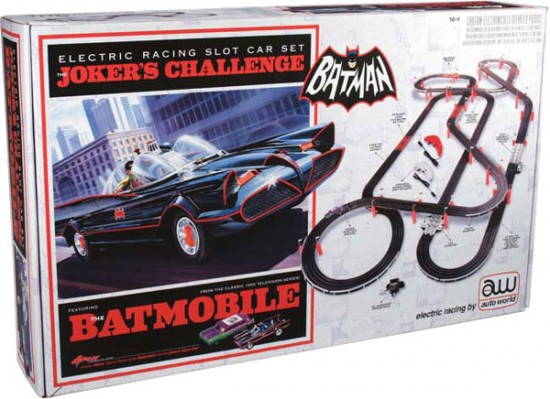 Entertainment Earth (via Geek Alerts) has this cool slot car racing set themed around the original Batman TV series available for purchase. Definitely aimed at the nostalgic fan.
Speaking to Total Film, George Clooney admitted that Batman and Robin was a "difficult" experience:
With hindsight it's easy to look back at this and go 'Woah, that was really shit and I was really bad in it.' The truth is, my phone rang, and the head of Warner Bros said 'Come into my office, you are going to play Batman in a Batman film' and I said 'Yeah!' I called my friends and they screamed and I screamed and we couldn't believe it! I just thought the last one had been successful so I thought I was just going to be in a big successful franchise movie. In a weird way I was. Batman is still the biggest break I ever had and it completely changed my career, even if it was weak and I was weak in it. It was a difficult film to be good in. I don't know what I could have done differently. But if I am going to be Batman in the film Batman & Robin, I can't say it didn't work and then not take some of the blame for that.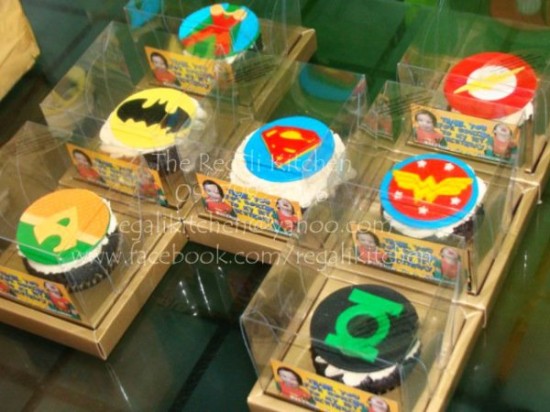 Regali Kitchen (via Geeks Are Sexy) have created these Justice League cupcakes.Michael Shannon was talking to the Los Angeles Times and spoke about the sets he's currently shooting Man of Steel on:
It's unlike anything I've ever done. It's massive sets. It's literally another world. It's the first time I've acted on another planet....As much green screen as there is and I'm sure will be, they're actually building a lot of the sets as well. I had thought it was just going to be green screens everywhere and we would just be pretending everything. There's quite a bit of detail they're building and putting into it. It's very helpful. The less green screen, the better — I don't think you'd be able to find an actor on Earth who wouldn't have that sentiment.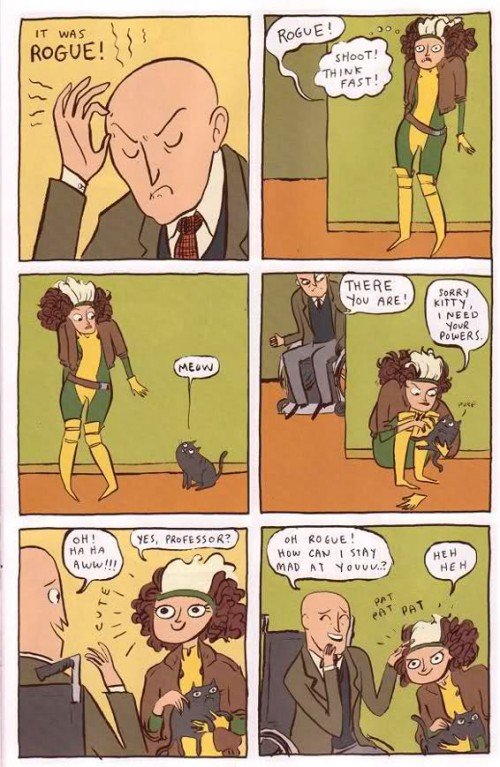 Everyone loves cats and if Rogue absorbs a cat's power, everyone loves her. Thanks to Hark A Vagrant via Nerd Approved.
Due to the amount of graphics and images included in Superhero Bits, we have to split this post over THREE pages. Click the link above to continue to the second page of Superhero Bits.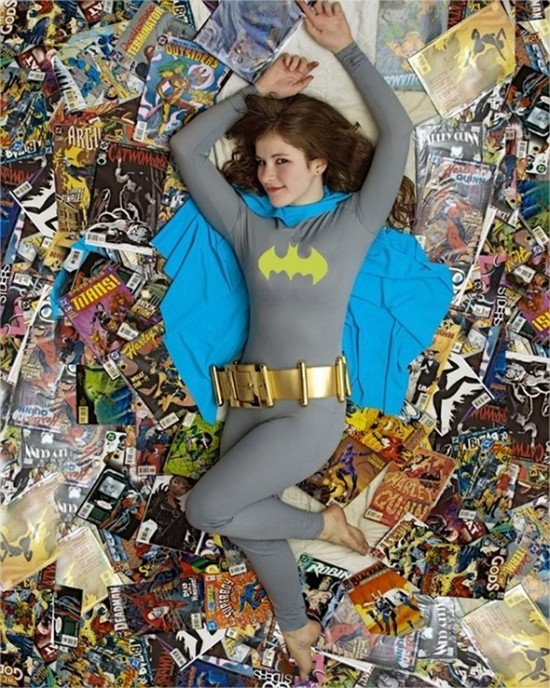 Superheroes (via Fashionably Geek) points us to this adorable photo of Batgirl cosplay on a bed of comics.
A man dressed as Batman walked into a New Zealand church thinking the "White Lights of Hope, which commemorate the earthquake anniversary," resembled a Batsignal. Read the story at Arbroath.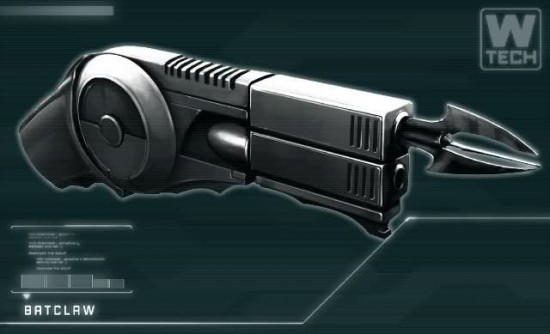 Batman Arkham City is a few weeks away and there's still more news coming out. For example, a Arkham City website (via CBM) posted a gallery of concept and weapon art such as this Batclaw.Comic Book Movie says Nightwing will be playable in Batman Arkham City.Coming Soon has premiered this Steel Mill gameplay footage from Batman: Arkham City.
Actor Massi Furlan reportedly has a part in The Dark Knight Rises via Monsters and Critics.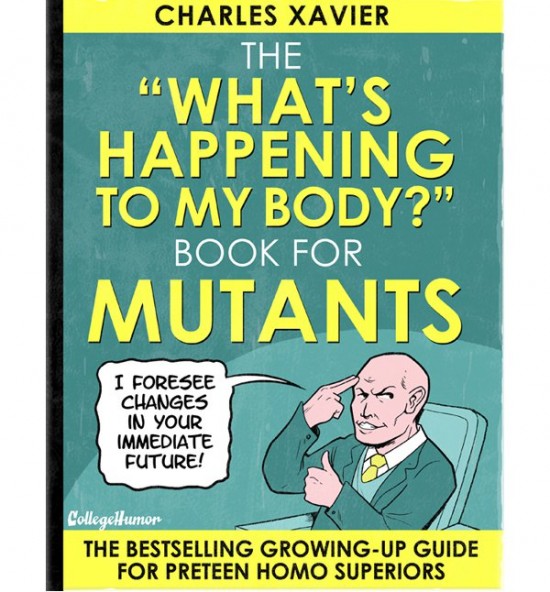 College Humor (via Nerd Approved) has actually written the book you see above and it's frigging hilarious.Hugh Jackman spoke to Collider about the script changes in The Wolverine.
We had a script that was under Darren Aronofsky's directorial—it's 85 percent the same.  Darren took it in a Darren Aronofsky way and it's a version I know fans would have liked to have seen – I would have loved to have seen it.  James Mangold's version of the script brought Mark Bomback on. We always had a strong base there.  This is the best script we have had, which is precisely why Darren signed on.  I tried to get Darren to do X3 and Wolverine and he was always like, 'It's not really for me.' I knew he was looking for a comic book movie and he read this one and he goes, 'Hey, this is the best one I've ever read.'  So there is a lot of meat on the bone there.  Now, Mark and Jim have taken it and I think that it as strong, if not stronger, than what we would have had with Darren.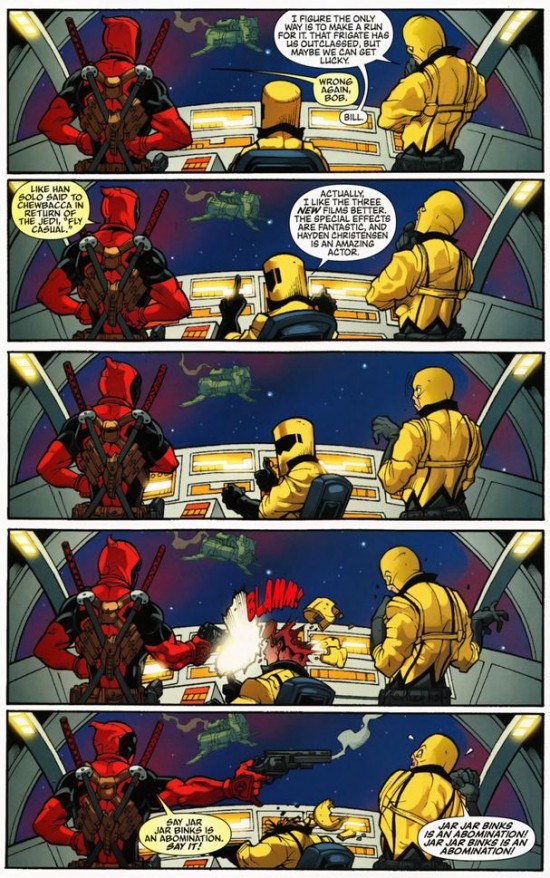 Distracted by Star Wars (via Topless Robot) has posted this comic of Deadpool's thoughts on the Star Wars prequels.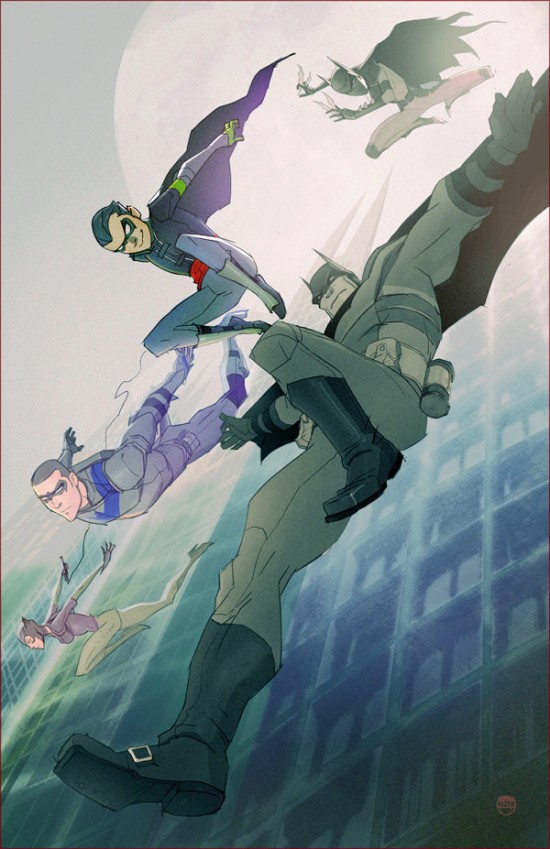 Artist Kizer Stone (via Geek Tyrant) has created this cool piece of art called Dark Knights.
THE NEXT PAGE IS FULL OF SPOILERS FROM THE DARK KNIGHT RISES.
Due to the amount of graphics and images included in Superhero Bits, we have to split this post over THREE pages. Click the link above to continue to the third page of Superhero Bits.
The Gotham City Police are in hot pursuit of the evil Batman in The Dark Knight Rises. Thanks to Comic Book Movie.
[No photo]
Maybe that video is in relation to this photo, which is one of many that surfaced over on Superhero Hype (via CBM). They seem to show Batman on the Batpod investigating a body on the street (a police officer? Catwoman?) and then a bunch of police cars show up. There are more photos and a video at that link.
Thanks to Comic Book Movie for another set of videos, such as this one, from the same chase in The Dark Knight Rises.
Both Batman-News as well as Coming Soon have some other ones but, at this point, I think you get the idea.
More Dark Knight Rises vehicle action above. Bleeding Cool captured some photos and this video of a helicopter lifting and flying the new Batwing.