Fantastic Fest 2011 Recap: The Top Ten Films And Top Five Trends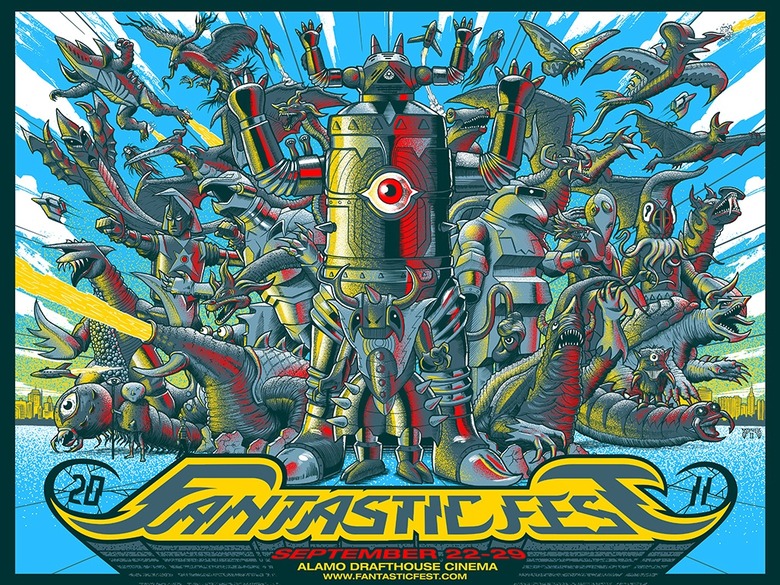 Another Fantastic Fest is in the books and the festival once again lived up to its name. For eight straight days I slept little, met friends, ate, drank and watched an inhuman amount of crazy genre movies. Now that it's over, it's time to not only rank the best films I saw at the festival, but point out a few trends that defined Fantastic Fest 2011.
Before we get to the lists, I feel it imperative to embed this video. While I, and others, can try to explain to the layman how great Fantastic Fest is, how spectacular the movies and atmosphere are, a picture is worth a thousand words, as they say. So here's a recap video that should do the trick.
And now onto the lists.
The Best Films of Fantastic Fest 2011
1. A Boy and His Samurai – Winner of the festival's audience award, Yoshihiro Nakamura's film about a single mother and her little son who end up housing a time-traveling samurai turned pastry chef was rightfully beloved by all. It has everything you want in a movie and so much more.2. Sleepless Night – For pure edge of your seat action, Frederic Jardin's French film will end up being one of the best of the year. It combines the twists and turns of a Guy Ritchie movie and the visceral action of the Bourne series wrapped great, real time episode of 24.3. The Skin I Live In – Pedro Almodovar's latest film stars Antonio Banderas as an influential surgeon who has an incredibly beautiful girl locked up in his house. As their story unfolds, Almodovar not only keeps our interest, he makes us question what is real about our own emotions.4. Extraterrestrial – A hilarious, incredibly smart romantic comedy set against the backdrop of an alien invasion, Nacho Vigalondo's sophomore effort brings a sharp, screwball twist to the romantic comedy genre that will have you guessing until the end.5. You Said What? – Swingers meets State and Main in this utterly charming comedy about a group of friends who hold a fake audition to find their friend a girl and end up having to make the movie anyway. Filled with film references and a kick ass pop soundtrack, it's formulaic in the way that proves why formulas work so well.6. Comic Con Episode 4: A Fan's Hope – Every year, hundreds of thousands of fans descend on San Diego for Comic Con and for those who don't understand why, they just have to watch this film. Morgan Spurlock follows several unique people whose stories of triumph and failure at Comic Con are the perfect microcosm for the mecca of pop culture.7. You're Next – Touted as possible the start of the next great horror franchise, You're Next is about a group of animal masked home invaders who descend on a family reunion. The results are a gory, surprising, but also smart and funny film that everyone will be talking about when it finally gets released next year. It pretty much swept all the festival's horror awards too.8. Milocrorze: A Love Story – Nearly bursting off the screen with energy and color, this Japanese anthology film about love tells three unique stories that, while wildly different, each are the epitome of cool.9. Headhunters – An art burglar meets his match in the form of a former military security specialist in this Norwegian, Ocean's Eleven inspired cat and mouse thriller that keeps the audience guessing, laughing, and talking about the results at the end.10. New Kids Turbo – The biggest box office hit in the history of The Netherlands, New Kids Turbo is lewd, crude comedy with a social message and characters that grow on you to a point you don't want the movie to end.
Honorable Mention: Melancholia, Michael, El Narco, Rabies, Paranormal Activity 3
Note: There were about 65 total features that screened at the fest and I only saw 29, so there were plenty that people liked that I missed such as Sleep Tight, Clown and Beyond the Black Rainbow. Also I saw films like Elite Squad 2, The Innkeepers and Take Shelter before the festival so I didn't count them in this list.
Finally, whether or not you were at Fantastic Fest, there were a few things this year that seemed to differentiate it from years past. Here are my top five trends of Fantastic Fest 2011.
1. The best movies weren't that gory – Fantastic Fest is a genre film festival and usually that means gory horror, despicable acts and films that you'd never watch with a significant other. There certainly were some of those this year but, if you look at the list above, very few of the best movies were offensive at all. In fact, many of them were the total opposite.2. Things are decidedly tamer – Jumping off from number one, the super gory, gross out, offensive films that did screen in 2011 weren't as buzzworthy as previous years. Human Centipede II is the perfect example and as gross as that film is, you'd be hard pressed to find more than a handful of movies that come close. If anything, some contained only a scene or two of filth.3. Slow burns are the thing – A good number of this year's Fantastic Fest films suffered from "Slow Burn Syndrome" where the film moves along at a snail-like pace, just waiting and waiting for the big reveal. Sometimes that reveal delivered. Other times, it wasn't worth the trouble.4. U.S. vs. The World – Out of the almost 30 films I saw at the festival, almost 70% of them weren't in English and only four or five were American. In the game of cool genre movies, the U.S is losing. Badly.5. A new standard in ticketing is born – This last point is a little bit inside, but interesting nonetheless. In 2010 the Alamo tried to adopt an online ticketing system for attendees but the site crashed and most people were forced to drive to the theater early in the morning to get good tickets.. This year they utilized a website called Queue It which takes huge numbers of people and lets them wait to purchase something. Though it didn't always work out in my favor, the system is fair and basically went off without a hitch. This is a site that should be widely adopted for high demand sales.
And that's that. Another amazing year of movies and we hope that in covering the festival, you heard about a few movies that you never hard before and your interest is piqued.