'Inception', 'Star Trek', And 'Fast Five' Return To IMAX For One Week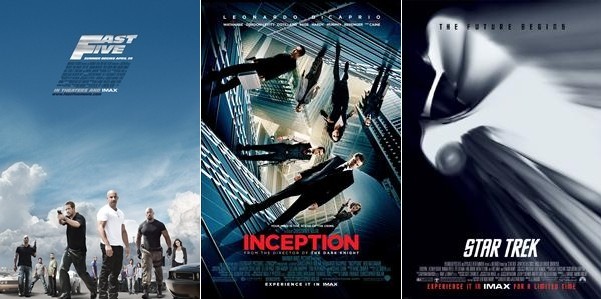 I'm not sure exactly why this is happening, but hey, I'm not about to complain. As part of something called IMAX Big Movie Week, AMC Theatres is bringing back three past blockbusters to IMAX screens for one week starting today: Christopher Nolan's Inception, J.J. Abrams' Star Trek, and Fast and the Furious five-quel Fast Five. And the best part is, tickets will cost just $7 each. That's significantly cheaper than regular, non-IMAX tickets cost in many AMC theaters, so it's a pretty sweet deal. More details after the jump.
It's worth noting that none of the three films were shot in IMAX (though parts of Inception were shot in 65mm), so you shouldn't expect The Dark Knight-level quality here. Nevertheless, considering that the price of admission regularly hits $12 and up in my area, I'm thinking $7 a pop is a fair price to pay to see any of these films on the big screen, especially if you missed them the first time around. While I'd argue that any film benefits from being seen on the big screen, action-heavy visual spectacles like these three really gain a lot from playing on the largest screen possible.
Aside from these re-runs, it's actually a pretty good weekend for movies. 50/50, Tucker & Dale vs. Evil, and Take Shelter all open today, and of course, Moneyball and Drive are still in theaters if you haven't gotten around to seeing them yet. Or, if you like the idea of revisiting an old summer blockbuster but action flicks aren't really you're style, The Lion King is still out there as well.