Woody Harrelson Joins Louis Leterrier's Magician Heist Film 'Now You See Me'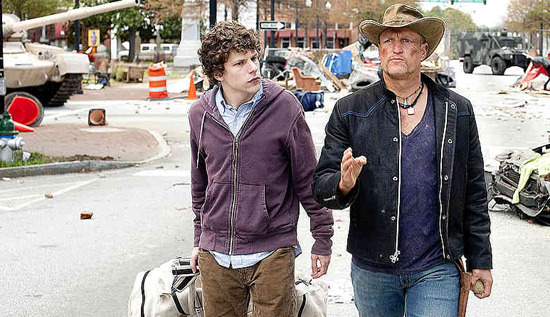 Louis Leterrier's heist film Now You See Me is one that I think has been flying under the radar for a lot of people so far, but it is shaping up to be a really promising picture. The basics are that Mark Ruffalo, Jesse Eisenberg, Morgan Freeman, Isla Fisher and Melanie Laurent make up the bulk of the cast.
The story is crazy, as it follows the pursuit of a group of thieving illusionists by an FBI squad. The illusionists rob banks during their performances, and shower the audience with some or all of the proceeds. It's an utterly ridiculous premise, and I can only hope that with the cast that has assembled, there's something to the script that makes it work like crazy. And now Woody Harrelson has come on board to reunite with his Zombieland cohort Jesse Eisenberg and pull some heists.
Variety reports the addition of Harrelson, saying that he'll be "Merritt Osbourne, a mentalist and hypnotist known for his Jedi-style mind tricks. He used to perform overseas for the Queen of England, but a bloody incident forces him to flee to Vegas where he joins the Four Horsemen," with the Horsemen being (obviously) the thieving illusionists.
As for the rest of the roles, Isla Fisher replaced Amanda Seyfried, and will be Henley, "a master technician who builds contraptions to aid in the illusion of the heists." Eisenberg is the leader of the Four Horsemen; Melanie Laurent is a former magician, Mark Ruffalo is an FBI agent (of course) and Freeman is "Thaddeus, an ex-magician who has made a career out of exposing other magicians' illusions, making him a despised figure within the magic community." Which means he works with Ruffalo at some point.
The script is by Edward Ricourt and Boaz Yakin, with a rewrite by Andre Nemec and Josh Applebaum (writers on Mission: Impossible – Ghost Protocol), and Alex Kurtzman and Roberto Orci are producing.