'Wanted' Screenwriters Hired For Sequel, Offer Vague Plot Direction; Mark Millar Teases More Movie Developments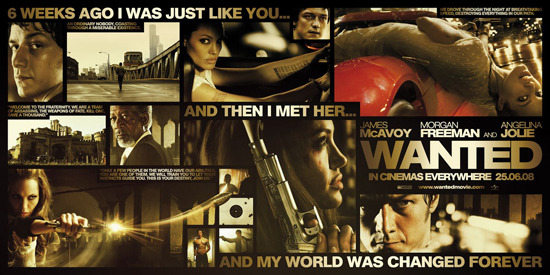 The idea of a sequel to the 2008 film Wanted, based on Mark Millar's comic series, has been floating around since before the first film even opened. Back in '08 Wanted screenwriters Derek Haas and Michael Brandt (who shared screen credit with Chris Morgan) were supposedly hired to script the sequel, but the fact of the theoretical film has never been very certain. Evan Spiliotopoulos, co-writer of Pooh's Heffalump Movie, was later hired to write a draft. As the producers tried and failed to persuade Angelina Jolie to return for a sequel (a difficult task, given how she ended up in the first film) it looked like Wanted 2 might not happen.
The last time we heard from original director Timur Bekmambetov, he said discussions with Universal were ongoing with respect to the sequel, but the schedule of lead actor James McAvoy was problematic, as was the degree of control Universal wanted over the film. Now Derek Haas says he and Brandt have been hired to script the sequel once more. And with that news, Wanted creator Mark Millar is taking the opportunity to tease more movie developments.
Derek Haas publicly announced that he and Brandt had been brought back to write, saying via Twitter,
Michael and I were just hired by Uni to write WANTED 2.
That was earlier today, and The Wrap quickly reached out to the screenwriter, who said Wanted 2 doesn't yet have a director attached. He did offer that the film will "take off after the events of what just happened. Pick up Wesley a few years later and go back in for another round." Presumably that means that the producers will try to persuade James McAvoy to return to the lead role. (I don't know the details of his Wanted contract, but there could well be an option that Universal could exercise.) [via ComingSoon]
Following this announcement, Mark Millar said on his own site, "This is one of four or five big movie announcements from Millarworld in the next four weeks. Stay tuned." The obvious guess is that we might hear some Kick-Ass 2 news, even though Millar himself recently offered a none-too-optimistic update on that project.
There's also the thinly-veiled Batman reworking called Nemesis that has been in development, and it's been a while since we heard anything about Millar's own film, Miracle Park. The writer has other projects in development as well, so those are just guesses for now.