First 'Game Of Thrones' Season 2 Teaser Reveals Pretty Much Nothing, But We're Excited Anyway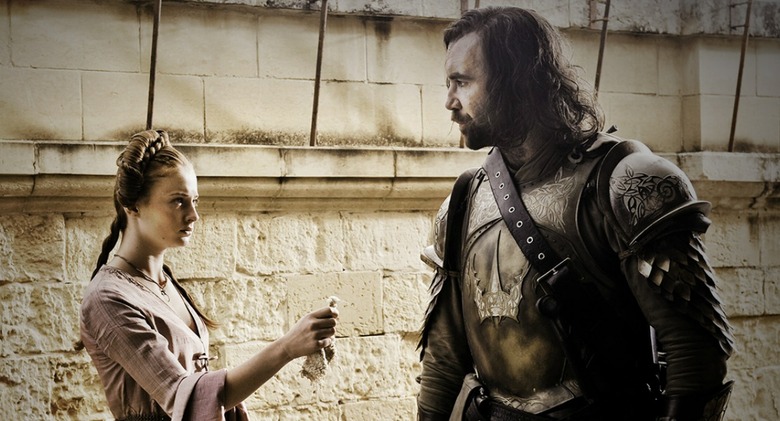 We may receive a commission on purchases made from links.
HBO's epic fantasy series Game of Thrones was such a big hit when it premiered this past spring that the network renewed it for a second season just days after the first episode aired. But it's been a long three months since the first season ended, and with the advent of the fall TV season, even the most diehard fans probably haven't thought about the series in quite some time.
In an effort to remind you of just how much you're looking forward to Season 2, HBO has released a very short new teaser. The video reveals pretty much nothing, aside from what seems to be the marketing slogan for the new season, but I welcome the reminder all the same. Watch it after the jump.
The 17-second teaser not only has no new footage, there's actually no footage at all, despite the fact that the series has been shooting since earlier this summer. Having read George R.R. Martin's A Song of Ice and Fire series of novels, on which the show is based, I can tell you that the tagline comes from a character who's new to Season 2 — the beautiful and mysterious sorceress Melisandre of Asshai (Carice van Houten). However, I have no explanation as to why the voice that's saying it sounds so Voldemort-esque.
Season 2 of the series will pick up where Season 1 left off, with various characters angling for power in the Seven Kingdoms while supernatural forces approach. In addition, the second season will introduce a host of new characters and locales. Among the actors who've been newly cast for Season 2 are:
Nonso Anozie as Xaro Xhoan DaxosOona Chaplin as Jeyne WesterlingGwendoline Christie as Brienne of TarthLiam Cunningham as Ser Davos SeaworthBen Crompton as Dolorous Edd TolletKarl Davies as Alton Lannister (character does not exist in the novels, though fans speculate that he may be replacing the book character Cleos Frey)Oliver Ford Davies as Maester CressenStephen Dillane as Stannis BaratheonNatalie Dormer as Lady Margaery TyrellRoy Dotrice as HallyneIan Hanmore as Pyat PreeKerr Logan as Matthos SeaworthPatrick Malahide as Balon GreyjoyMichael McElhatton as Roose BoltonFintan McKeown as Ser Amory LoachLucian Msamati as Salladhor SaanHannah Murray as GillyDaniel Portman as Podrick PayneRobert Pugh as CrasterCarice van Houten as Melisandre of AsshaiGemma Whelan as Yara Greyjoy (called Asha in the books)Tom Wlaschiha as Jaqen H'ghar
Much of the Season 1 cast is expected to return as well. I won't say which ones, lest I give away which characters have perished or become otherwise indisposed, but I will say that the first season starred Sean Bean, Mark Addy, Kit Harrington, Lena Headey, Nikolaj Coster-Waldau, Harry Lloyd, Alfie Allen, Rory McCann, Iain Glen, Jason Momoa, Sophie Turner, Maisie Williams, Isaac Hempstead-Wright, Jack Gleeson, and Peter Dinklage, who recently won an Emmy for his role as Tyrion Lannister.
Here's the Amazon synopsis for A Clash of Kings, the second volume of Martin's series and the book upon which the second season of Game of Thrones will be based. Be warned that major spoilers for Season 1 / Book 1 are below — if you're not caught up, you'd best avert your eyes.
The Seven Kingdoms have come apart. Joffrey, Queen Cersei's sadistic son, ascends the Iron Throne following the death of Robert Baratheon, the Usurper, who won it in battle. Queen Cersei's family, the Lannisters, fight to hold it for him. Both the dour Stannis and the charismatic Renly Baratheon, Robert's brothers, also seek the throne. Robb Stark, declared King in the North, battles to avenge his father's execution and retrieve his sister from Joffrey's court. Daenerys, the exiled last heir of the former ruling family, nurtures three dragons and seeks a way home. Meanwhile the Night's Watch, sworn to protect the realm from dangers north of the Wall, dwindle in numbers, even as barbarian forces gather and beings out of legend stalk the Haunted Forest.
And if you can't remember where Season 1 ended, here's a spoiler-filled recap of the story so far:
Game of Thrones will return to HBO for its ten-episode second season in Spring 2012.