Russell Brand And Julianne Hough Confirmed For Roles In Diablo Cody's 'Lamb Of God'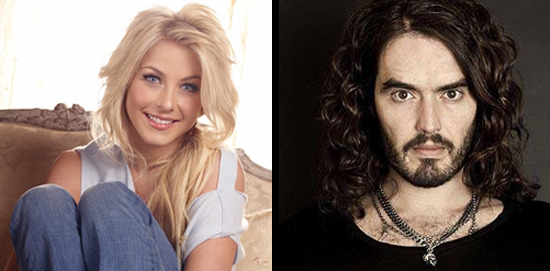 In June, Diablo Cody's directorial debut was announced: Lamb of God, a film the writer and soon-to-be director described as "about a woman who survives a plane crash and loses her faith in everything. (Comedy gold!) Seriously though, it's not the cynicism-fest implied by the log line. It's a nice Christmas story."
Not long afterward, Russell Brand was said to have been offered one of the lead roles. Now he's locked, and Julianne Hough (Footloose), also mentioned as being high on Cody's wishlist, is also set to play the plane crash survivor around whom the story is built.
Deadline says that Cody and Mandate Pictures have set the two, though the site also reports that the film is now untitled. The shoot will start in spring 2012.
This is the original plot announcement:
The comedy follows a young conservative religious woman who loses her faith after a plane crash, decides to go to Las Vegas to live the life of a sinner, and on her journey finds her way back to her faith.
Deadline expands upon that a bit with the fact that, while in Vegas, Hough's character "meets an unlikely companion who helps her find herself," to be played by Brand. He's one of two characters the 'lamb' meets in Vegas, the other being a craps dealer named Loray. That character is yet to be cast.
That's all the info we've got right now, and I wonder if the film will really be lighter than Cody's script for Young Adult. As it stands it sounds like it could be pretty rough — almost the sensibility of Palahniuk filtered through Cody. But that's the problem with making assumptions based only on a brief plot description. I will be looking forward to seeing what Cody can get out of Russell Brand, though — can she finally help him break away from the general conception many audiences have of his work?