Sequel Bits, Everyone Returns Edition: Shawn Levy And Hugh Jackman For 'Real Steel 2', Michelle Rodriguez In 'Resident Evil', Karl Urban In 'Riddick'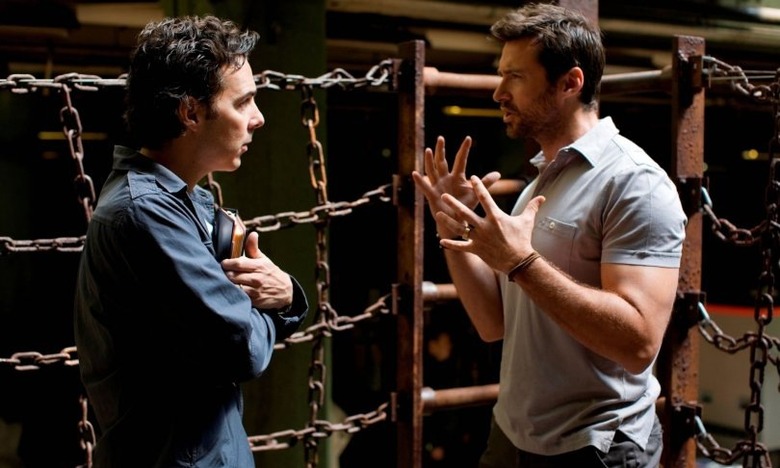 Real Steel 2, Resident Evil: Retribution, and Riddick are in completely different stages of development at this point, but they all have one thing in common: Everyone wants to return for them. (Well, that and the fact that they all start with the letter R.) After the jump, read about the following:
Shawn Levy and Hugh Jackman are confirmed for Real Steel 2 — a week and a half before Real Steel 1 has even hit theaters.
Michelle Rodriguez becomes the latest former Resident Evil star to board the upcoming fifth installment.
Karl Urban agrees to reprise his role for the long-gestating Riddick.
Levy told the site that test screenings for Real Steel had gotten such positive results that "[DreamWorks] not only took the bullish move of developing a sequel and asking me to sign on but then also didn't deny it when it leaked in the press. That was a show of confidence that hopefully we will reward."
However, you may not want to get pumped up just yet, as Jackman's commitments to Les Miserables and The Wolverine may push production back a bit. "I need to wait and see what shakes out with Hugh's schedule and mine," said Levy. "But we are both committed to the sequel if this movie is a hit."
The cast of Resident Evil: Retribution seems to be filling up with familiar faces. Previous stars Sienna Guillory, Colin Salmon, Boris Kodjoe, Shawn Roberts, and of course, Milla Jovovich have all signed on to return to the franchise for the fifth installment, and now comes news that Michelle Rodriguez will be joining the cast as well. Rodriguez starred in the first Resident Evil as Rain Ocampo, an Umbrella commando, and will be reprising her role for Retribution.
As previously reported, Retribution will be written and directed by Paul W.S. Anderson, and will begin production shortly in Toronto, Russia, and Japan. Though few details have been revealed about the plot, the casting of Retribution so far suggests that the movie will incorporate flashbacks or otherwise jump backwards in time, as some of the characters set to reappear have died in previous films. The film is scheduled to open September 14, 2012. [Bloody Disgusting]
Development has been rather slow-moving on Riddick, the follow-up to Pitch Black and The Chronicles of Riddick, for the past several years, but in the past couple of months progress has picked up ever so slightly. A month and half after we reported that casting on the project had begun, the first non-Vin Diesel actor has signed on. According to Bloody Disgusting, Karl Urban will stepping back into the role of Vaako, Necromonger Commander under the Lord Marshal (played in The Chronicles of Riddick by Colm Feore) and husband of Dame Vaako (played previously by Thandie Newton). If none of those words mean anything to you, well, you've got plenty of time yet to catch up on the last two films.
Here's the synopsis for the new movie, which may or may not be going by the title The Chronicles of Riddick: Dead Man Stalking now:
Betrayed by his own kind and left for dead on a desolate planet, Riddick (Diesel) fights for survival against alien predators and becomes more powerful and dangerous than ever before. Soon bounty hunters from throughout the galaxy descend on Riddick only to find themselves pawns in his greater scheme for revenge. With his enemies right where he wants them, Riddick unleashes a vicious attack of vengeance before returning to his home planet of Furya to save it from destruction.
It's worth taking the report with a grain of salt at this point, as the project has yet to get an official green light from Universal, but it sounds plausible enough. Diesel and writer/director David Twohy are currently in pre-production with the project. No production start date or release date has been announced.