Netflix Signs Streaming Deal With DreamWorks Animation, Amazon Signs Fox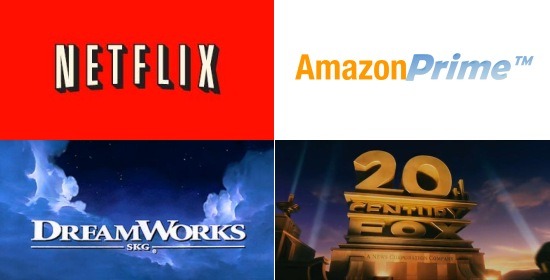 After taking a public pounding thanks to its recently announced updates to pricing and subscription models, Netflix finally has a bit of good news to announce. The company has just signed a huge deal with DreamWorks which will bring the studio's films and TV specials to Netflix's streaming service.
The accord comes not a moment too soon, as competitor Amazon makes its own big reveal today — a pact to bring 2,000 20th Century Fox films and television episodes to its own instant video service. The clear winner in all of this, however, is streaming, which continues to grow in importance within the home video market. Read more after the jump.
The DreamWorks catalog — which will include new movies like the upcoming The Croods and Turbo, plus as older ones like Kung Fu Panda and Megamind — will be available for streaming on Netflix starting in 2013. Neither the value nor the length of the Netflix-DreamWorks pact has been revealed, though the New York Times estimates a worth of about $30 million per picture to DreamWorks. The deal replaces an earlier, less profitable one that DreamWorks had with HBO, as HBO agreed to end their deal with the studio two years early. It also allows DreamWorks to continue selling digital downloads; DreamWorks' previous deal with HBO required that the studio suspend digital sales for a period to allow the network exclusive access.
The DreamWorks deal is a good sign for Netflix, which is still recovering from a massive backlash in the wake of its pricing model change and Qwikster announcement. Earlier this year, the company failed to reach a renewal agreement with Starz, though more recently, it was able to re-up their contract with Discovery.
Meanwhile, Amazon continues to make inroads into the streaming market with its brand new Fox deal. The agreement brings Amazon's total catalog of titles to about 11,000, and includes such shows as Buffy the Vampire Slayer, Arrested Development, and films like Office Space and Butch Cassidy and the Sundance Kid. (For comparison, Netflix has roughly 20,000 titles according to All Things D). Netflix will continue streaming the Fox shows and movies it already has, but Amazon will have exclusive access to a few titles, including the much-loved series The Wonder Years.
Amazon CEO Jeff Bezos expressed his enthusiasm for the thriving Amazon Prime service. "Since launching earlier this year, we have now doubled the number of titles available in Prime instant videos, and there's still more to come," he said. The company also recently signed a deal with NBCUniversal Domestic TV Distribution, adding titles like Eternal Sunshine of the Spotless Mind and Gosford Park.
Though Netflix is still the bigger name in the market, its recent misfortunes have tarnished its once golden image. Amazon will become serious competition as it continues adding to its collection of titles. It's worth noting that price-wise, Amazon's $79/year Prime service is currently about $17 cheaper per yer than Netflix's cheapest streaming subscription. Amazon also offers a la carte rentals and digital videos for purchase, at a rate of $3.99 per title and up. As Time points out, however, one major hurdle for Amazon's service is its incompatibility with video game consoles, Windows phones, and Apple iOS devices. And as other services like Vudu, Dish Network, and Apple continue ramping up their offerings, competition within the streaming market will only get more fierce.
[Additional source: Variety]