'One For The Money' Trailer: Katherine Heigl Gets Fired, Becomes A Bounty Hunter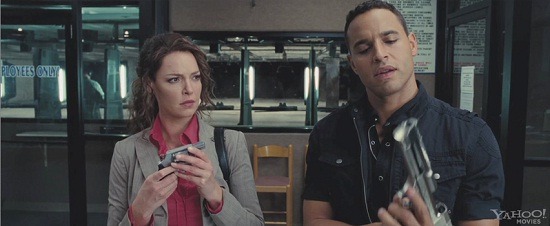 I think it's fair to say that Katherine Heigl has an image problem. Films like Killers and Life as We Know It haven't done much to balance the idea of Heigl as ice queen, but maybe adopting a Jersey accent will do the trick. Providing the assist is Heigl's former Grey's Anatomy director Julie Anne Robinson, who sat in the director's chair for this particular effort.
So One for the Money is based on the first of more than a dozen novels by Janet Evanovich that follow the travails of amateur bounty hunter Stephanie Plum. Heigl plays Plum in what looks like a zippy but vapid film in the same basic vein as Romancing the Stone. (Or, if you're feeling less generous, in the same mode as The Bounty Hunter, with the main gender roles flipped.) Check out the trailer below.
I'll say this: that's quite a lively trailer. Not that it makes the film look any more bearable, but I'll dole out points for effort. Maybe there's a reason that One for the Money has languished as a studio property since the mid-'90s?
Yahoo will let you see every little detail in HD.
A proud, born-and-bred Jersey girl, Stephanie Plum's got plenty of attitude, even if she's been out of work for the last six months and just lost her car to a debt collector. Desperate for some fast cash, Stephanie turns to her last resort: convincing her sleazy cousin to give her a job at his bail bonding company...as a recovery agent. True, she doesn't even own a pair of handcuffs and her weapon of choice is pepper spray, but that doesn't stop Stephanie from taking on Vinny's biggest bail-jumper: former vice cop and murder suspect Joe Morelli – yup, the same sexy, irresistible Joe Morelli who seduced and dumped her back in high school. Nabbing Morelli would be satisfying payback – and a hefty payday – but as Stephanie learns the ins and outs of becoming a recovery agent from Ranger, a hunky colleague who's the best in the business, she also realizes the case against Morelli isn't airtight. Add to the mix her meddling family, a potentially homicidal boxer, witnesses who keep dying and the problem of all those flying sparks when she finds Morelli himself...well, suddenly Stephanie's new job isn't nearly as easy as she thought.