Casting Bits: Michael K. Williams May Still Appear In 'Django Unchained', Charlize Theron In Talks For 'Cities Of Refuge', Leven Rambin Lands 'Mavericks', Paula Patton Joins 'Disconnect'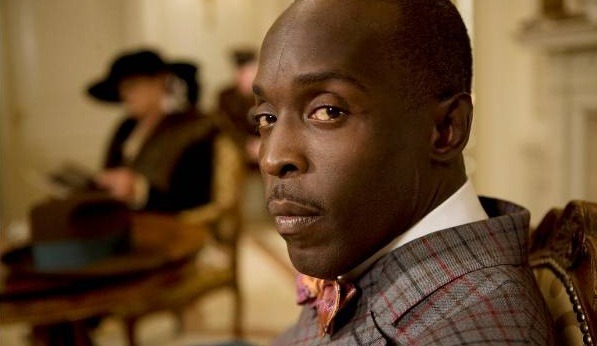 Michael K. Williams may have missed out on the lead role of Django Unchained, but it seems there may still be room for him to appear in a different capacity. In an interview with Shadow & Act (via The Playlist), the The Wire actor confirmed that he had just barely lost the lead role to Jamie Foxx, but that director Quentin Tarantino (or "QT, as I call him") liked Williams enough to consider creating a new role just for him. "It's not official yet but there's a lot of talk that there may be a role coming back 'round my way,'" he told the site. "His people and my people have been in discussions in regards to a role that he is creating for me."
The Playlist points out that the only major black role still uncast is that of Bartholemew, but that the hulking, silent bodyguard probably wouldn't be an ideal fit for Williams. However, it's possible that the character could be rewritten to better suit Williams, or that Tarantino will add a new character altogether.
After the jump, new gigs for Charlize Theron, Paula Patton, and Leven Rambin.
Details on the project are frustratingly scarce, but what's intriguing is that Willer is apparently such a Hollywood newbie that he doesn't even have an IMDb page. It appears he's made at least one film through Kickstarter funding, but if Cities of Refuge gets off the ground it could be a big break for Willer — so way to go, guy! For what it's worth, Willer lists Jean-Luc Godard, Francois Truffaut, and Eric Rohmer as his major influences. [Deadline]
Former All My Children actress and future Hunger Games co-star Leven Rambin has signed on for Mavericks, a surfing picture based on the real-life tale of sport star Jay Moriarty. Leven will play the best friend and love interest of Moriarty, who will be played by Jonny Weston. Gerard Butler is also attached to star, in the role of Moriarty's mentor Rick "Frosty" Hesson. 8 Mile helmer Curtis Hanson will direct from a script by Kario Salem and Brandon Hooper.
Gutsy young surfer Moriarty rose to the forefront of big wave surfing by riding the massive, sometimes deadly NorCal break known as Mavericks. However, his career was tragically cut short when he perished in a diving accident at the age of 22. [Variety]
The pieces are falling into place for Disconnect, the narrative feature debut of Murderball director Henry Alex Rubin. Alexander Skarsgård, Colin Ford, Michael Nyqvist, Andrea Riseborough, and Jason Bateman recently boarded the indie ensemble drama, which seeks to explore the ways modern communication affects and destroys. Patton's role has not been revealed, but to refresh your memory, here's what everyone else will be doing:
Skarsgård: a former Marine struggling to make ends meet and is emotionally cut off from his wife, prompting him to seek an affair.
Nyqvist: a man who Skarsgård and his wife suspect of stealing their identity.
Riseborough: an ambitious TV reporter who, frustrated by her lightweight stories, pursues a story about a young male model who poses nude online.
Bateman: a single father and computer safety expert who's overprotective of his 15-year-old son and wants to keep him away from the dangers of the online world.
Ford: Grillo's son, a skater who deals with his own emotional pain by chatting online with a troubled teen under the guise of being an interested teen girl.
Patton will next appear in Mission: Impossible – Ghost Protocol, due out this December. [Deadline]