Fox Gives Season Order To Tim Kring/Kiefer Sutherland Drama 'Touch'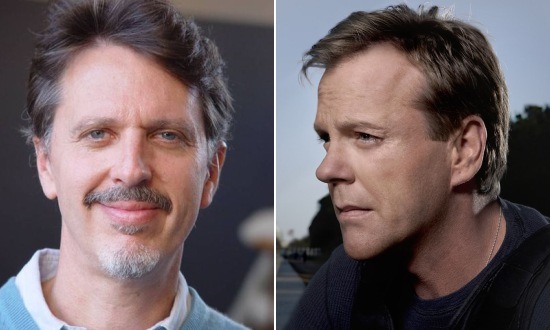 We're just now getting to see the first new shows of the fall, but it seems there's at least one reason to start looking forward to spring already. Fox has just given a thirteen-episode order to Touch, a drama created and written by Heroes' Tim Kring and starring 24's Kiefer Sutherland.
The series revolves around dad Martin (Sutherland) who comes to the realization that his mute autistic son Jake (David Mazouz) has an extraordinary ability to pick up patterns between seemingly unrelated events. Using numbers, Martin must communicate with his son in order to uncover the true meaning behind the mysterious connections. More details after the jump.
The series pickup comes as no surprise — the order's been considered all but certain some months now, and by May upfronts Touch was already hiring a writing staff. "Touch is another ambitious series from Tim Kring that is beautifully executed and has incredibly resonant themes for our times," said Fox Entertainment president Kevin Reilly in a statement. He expressed his excitement over Sutherland's return to the network as well. "With Kiefer back on the network as the face and force behind this creative new series, I'm confident it will resonate with viewers this spring," he added.
Whatever you think of the later seasons of 24 and Heroes, there was a time when each of those shows were reliably producing some of the most thrilling, buzzed-about hours of every week. Combine that pedigree with a potential-filled premise and Lawrence's knack for striking visuals, and I think it's safe to say Touch is going to be worth tuning in for — at least for a season or two.
Touch has yet to set an exact date for its premiere, but is expected to debut in Spring 2012 as a midseason entry. Here's the synopsis from the press release:
At the center of TOUCH is MARTIN BOHM (Sutherland), a widower and single father, haunted by an inability to connect to his mute 11-year-old son, JAKE (David Mazouz). After multiple failed attempts at keeping Jake in school, Martin is visited by CLEA HOPKINS (Gugu Mbatha-Raw), a social worker sent to evaluate Jake's well-being. Everything changes when Martin discovers that Jake possesses the gift of staggering genius – the ability to see things that no one else can and the patterns that connect seemingly unrelated events. Jake is indeed communicating. But it's not with words, it's with numbers. Martin meets ARTHUR DEWITT (Danny Glover), a professor and an expert on children who possess special gifts when it comes to numbers. Now, it's up to Martin to decipher the meaning and connect the numbers to the cast of characters whose lives they affect.