4 Minute Trailer: David Fincher's 'The Girl With The Dragon Tattoo'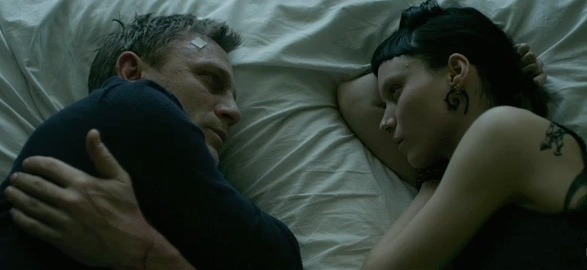 Last week some audiences in attendance to promo screenings of Straw Dogs and Moneyball were treated with a special surprise 8-minute trailer for David Fincher's big screen adaptation of The Girl With The Dragon Tattoo. You can read my enthusiastic report here, where I pleaded that Sony release the extended trailer online. While that doesn't seem like a possibility, Fincher has convinced the studio to release an extended trailer about half the length — three minutes and forty five seconds (which is still about double the length of most full length trailers released by studios). Hit the jump to watch the trailer now. Please leave your thoughts in the comments below.
You can also watch the trailer in beautiful high definition on Apple.com.
Official info:
The Millennium Trilogy by Stieg Larsson has been published in 44 countries and has sold more than 40 million copies worldwide thus far. In the U.S. alone, the series has sold over 10 million copies, and the sales were recently calculated at the remarkable rate of one book per second. The Girl With The Dragon Tattoo has broken sales records in virtually every country in which it has been published. It has sold over 5 million copies in the U.S. and has out-sold any other e-book in that rapidly expanding market. A literary phenomenon, all three books currently sit atop the New York Times Best Seller lists. In describing the scale of Larsson's achievement, The Economist said: "Stieg Larsson's vivid characters, the depth of the detail across the three books, the powerfully imaginative plot, and the sheer verve of the writing make the trilogy a masterpiece of its genre." Michiko Kakutani, of The New York Times, described the Lisbeth character: "Lisbeth Salander, Stieg Larsson's fierce pixie of a heroine, is one of the most original characters in a thriller to come along in a while – a gamin, Audrey Hepburn look-alike but with tattoos and piercings, the take-no-prisoners attitude of Lara Croft and the cool, unsentimental intellect of Mr. Spock. She is the vulnerable victim turned vigilante; a willfully antisocial girl . . . who has proved herself to be as incandescently proficient as any video game warrior." The three novels have all become #1 worldwide bestsellers, an achievement unrivaled in trade book publishing. The screenplay is written by Steve Zaillian and the film is being produced by Scott Rudin, Cean Chaffin, Ole Sondberg and Søren Stærmose. Mikael Wallen and Anni Fernandez are executive producers. The Girl With The Dragon Tattoo is set for worldwide release December 21, 2011.