Jonah Hill, Danny McBride, Craig Robinson & James Franco Added To 'Jay And Seth Vs. The Apocalypse'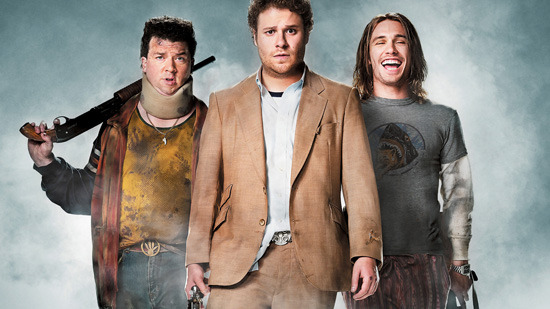 A couple weeks ago when talking about Jay and Seth Vs the Apocalypse, the feature version of a short film he took part in years ago, Seth Rogen said "It's now much more than just Jay and Seth — there's many other people vs. the apocalypse now. It's gonna be crazy." Now we know who a lot of those other people are. In addition to Rogen and Jay Baruchel — the title characters — Rogen says that quite a few of his frequent co-stars are now part of the movie. So expect to see Danny McBride, James Franco and more in the film.
Specifically, Rogen told MTV, "We've decided to add more people, so ideally 'Jay and Seth' looks like it has become Jay, Seth, Jonah, Danny, Craig and James," with the latter four names being Jonah Hill, Craig Robinson, Danny McBride, and James Franco. Daniel Radcliffe was rumored for the film at one point, but seems like a no-show at this point, with Rogen explaining "it doesn't look like he's willing to push things as far as we [are]."
The refresher course on the film is pretty short: in the original 'trailer,' Jay and Seth are stoner friends who really start to get on one another's nerves as they take refuge from the end of the world. We've heard that the film would be a button-pusher, and Rogen has said in the past,
It's going to be a pretty offensive vision of the apocalypse. And I want a lot of dead celebrity cameos. Because L.A. is full of famous people, I'd like all of the cameos to be them as corpses.
As per our last update on the movie, Rogen and his Superbad writing partner Evan Goldberg wrote and will co-direct the film, with production beginning in February 2012.