Netflix Stock Down 7 Percent Following Qwikster Announcement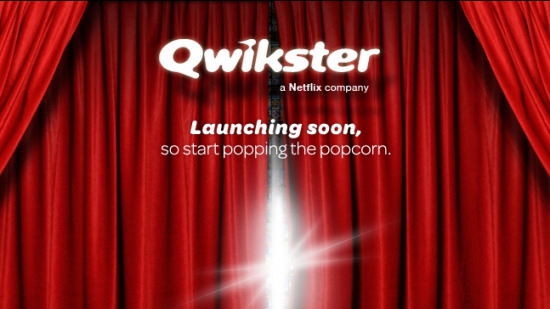 The company that once seemed like it could do no wrong as of late seems like it can do no right. In a blog post published Sunday night, Netflix CEO Reed Hastings apologized to customers for "lack[ing] respect and humility in the way we announced the separation of DVD and streaming, and the price changes," and revealed that the company would now be splitting off its DVDs-by-mail service completely into a new service called Qwikster. But rather than soothing irate customers, the move has seemingly only further antagonized members and shareholders. Read on after the jump.
However, Hastings' announcement seemed to have the opposite of the desired effect. Hastings' post racked up over 20,000 comments by Monday night, many of them from annoyed Netflix subscribers. "That letter was an insult to anyone with common sense," wrote one commenter. "Are you serious? How can two seperate billings, two separate non-integrated websites be a good idea?" wondered another. Even the more forgiving readers seemed, at best, confused: "Thank you for your email," began one response. The writer continued, "Your company's changes make sense, but the reason for re-naming the DVD service is less clear."
While it could be argued that unhappy customers would naturally be more likely to speak up in the comments, there was no such ambiguity over Wall Street's reaction the announcement. According to The Hollywood Reporter, Netflix stock sank 7% Monday, "continuing a slide that has more than halved the shares since Netflix announced a price hike in July." THR went on to quote "unimpressed" analysts who "accused Netflix of acting in haste without doing its homework." Group Gordon chief exec Michael Gordon predicted that things wouldn't be improving for the company any time soon. "I have a feeling the apologies are just beginning," he told the New York Times. Some of the strategists who spoke to the paper, in fact, were so taken aback by Netflix's strange move that they theorized that the Qwikster announcement was less a solid plan and more a testing of the waters.
Then, of course, there's the matter of the @Qwikster Twitter handle. In an embarassing oversight by Netflix, it turned out that the account was currently owned by "a pot-smoking Elmo," as Brew Media Relations founder Brooke Hammerling put it to the NYT. "Dayum over 3120 follower just cuz some ppl wanna buy my handle 3 ppl have asked but idk who to trust," wrote the account holder, who identifies himself on Twitter as Jason Castillo. An hour later, he tweeted that he'd recevied one offer of $1,000.
Even the one bit of apparently good-for-the-customer news, the inclusion of video games, drew criticism from at least one analyst. Tony Wible of Janney Capital Markets told THR that video games were "a quick way to lose money," as customers "have little interest in older games."
It's normal for any company to draw some amount of grumbling from loyal customers when they make big changes to their services or products. In many cases, the complaints fade once the company corrects course or customers simply adjust to the new way. However, Netflix as of late has been going from one blunder to another. The new pricing model, which inspired outrage from members when it was originally announced, is projected to end up costing Netflix about one million subscribers. A small price increase or minor PR blunder won't usually sink a huge company, but Netflix's consistent errors in judgment have members and shareholders alike wondering if the once-beloved company will ever completely recover — or if it'll go the way of "AOL dialup or Borders bookstores," to use two examples named by Hastings in his post.