Alamo Drafthouse Expansion Begins In Littleton, Colorado Late 2012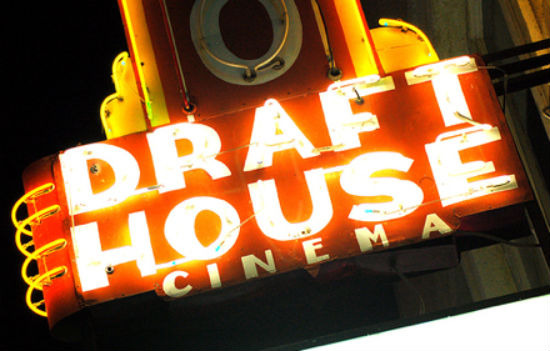 Monday afternoon, I was on the phone with Tim League, the founder and CEO of the Alamo Drafthouse, where we discussed what's going on with this year's Fantastic Fest, which he also co-founded. During our interview, I obviously asked about the latest in regards to expanding the Alamo Drafthouse brand into other major cities. And while he didn't have anything new to report from the coasts, he did let it slip that they're opening a brand new one in Colorado. Cut to a little bit later and we have a press release full of information.
The Alamo Drafthouse, one of the best movie theaters chains in the world (if not the best) will open a new location called the Alamo Aspen Grave in late 2012 in the Aspen Grove Shopping Center in Littleton, Colorado. It'll be a seven screen theater with all the amenities – great food, retro screenings, beer – that make the Alamo brand so special.
After the jump, check out the full press release with a bunch of additional info and check back later this week for our interview with Drafthouse founder and CEO Tim League.
Thanks to Ain't It Cool News for the heads up.
Alamo Drafthouse Cinemas is pleased to announce its plans for the first Alamo Drafthouse location in the Colorado market. Alamo Aspen Grove will be located in the Aspen Grove Shopping Center in Littleton, Colorado and is slated to open in late 2012.
"We're very excited to expand the Alamo Drafthouse to moviegoers in Colorado. We've found an area for a natural extension ofour concept, which began in Austin, to a like-minded audience of serious movie and beer lovers," said Alamo Drafthouse CEO/Founder Tim League.
Alamo Drafthouse Cinema combines dinner, drinks, films and events, all under one roof. The theaters have been heralded for their unique programming events and high exhibition standards,earning accolades like "Best Theater Ever" (Time Magazine) and "the coolest theater in the world" (Wired). This will be the first Alamo Drafthouse Cinema in the state of Colorado, making it 12 locations for the Austin-based theater chain.
The Alamo Drafthouse Cinemas provides a unique combination of theatre and restaurant, showing first-run & independent films and special programming events with an extensive menu made from scratch in a state-of-the-art culinary kitchen. Customers order all food and drinks from servers who quietly attend to them throughout the movie. Handcrafted, specialty beers are available on tap, including The Drafthouse's own signature ale brewed locally.
Customers are encouraged to arrive early to enjoy the pre-show entertainment. Instead of a barrage of advertising, a pre-show of rare (and often hilarious) clips are shown that change on a regular basis, often tailored specifically to the feature film."We're proud of the fact that we don't show any advertising," Tim League said. "People don't want to pay for a movie and then be bombarded with 15 minutes of dancing candy and fountain drinks. Instead, the pre-show really adds to the overall Alamo experience where patrons can look forward to arriving early to catch it."
Additionally, the Alamo Drafthouse protects the theater experience with a zero tolerance policy forpeople who disrupt the film with talking or texting. This past summer the Alamo Drafthouse was featured on global news for a viral "Don't Talk" PSA that used a humorously misguided voicemail from an actual patron who was ejected for texting during the film. The full story on the long tradition of Alamo's no talking/texting policy can be found here.
The new location is aground-up 7-screen theater with seating for over 900 moviegoers. Each of the auditoriums will be equipped with state of the art digital projection as well as excellent screen size to room ratio and amazing sound. In addition to the superior AV equipment, the layout of each screening room will eliminate the traditional front row, ensuring every seat in the house allows for a great viewing experience. One of the auditoriums will also be a "microcinema" with just 48 seats but still a very large screen. This room is perfect to support more niche films and will also be available to rent for private parties, screenings and meetings. The theater will also feature ample bike racks for neighbors who are close enough not to drive.