'Knuckle' Theatrical Trailer: Documentary About Bare Knuckle Boxing Families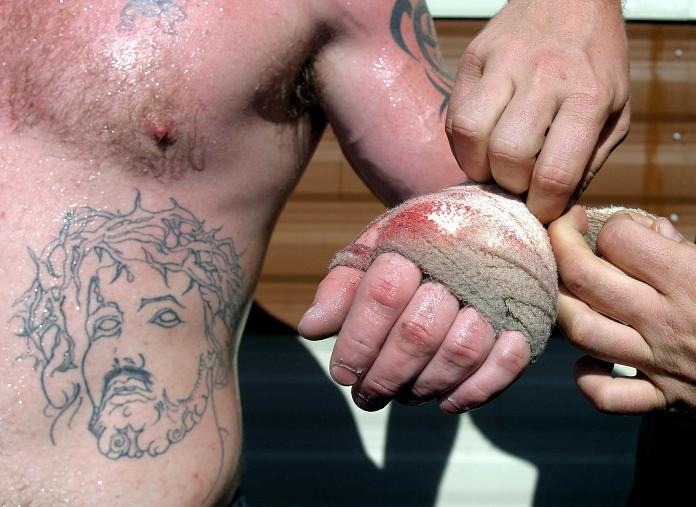 We've all been so mad at someone we wanted to punch them in the face. Some of us might have even gone through with it. But with Knuckle, Ian Palmer's documentary about a long lasting family feud between Irish clans, we see where real anger leads. Palmer shot the film over a decade as two families with a deep seeded hatred of each other continually settle the score in illegal bare knuckle boxing matches for huge sums of money. The winners are loved and respected by their family. The losers, shamed for not defending the family name.
The film, which had its world premiere at Sundance in January and was optioned by HBO to be turned into a TV series, will be playing at Fantastic Fest next week before its release date of December 2. Check out the brand new trailer after the jump.
Here's the trailer for Knuckle thanks to Yahoo Movies.
I saw Knuckle at Sundance and while I found it riveting and upsetting, I thought it eventually lost a little steam. That's not really the fault of Palmer, though. He put in an amazing amount of work. It's more because the film features very guarded, real people who were especially careful about how much they revealed about themselves. We learn a lot but, ultimately, it's not really enough and with a never ending feud, the film lacks satisfying closure. Still, it's an incredible story, as you can tell from the trailer.
Here's the description of the film from the Fantastic Fest website. We'll have more on the festival next week:
When videographer Ian Palmer was hired to film a Quinn family wedding, he unexpectedly stumbled upon a documentary subject that would occupy him for over a decade. KNUCKLE centers around a feud between the Quinns and a neighboring clan, the Joyces. Both are part of a large group of ethnic Irish known as Travellers. Travellers are generally poor, travel from place to place in search of lodging and work and are often the victims of discrimination in Ireland.
In addition to sharing a Traveller heritage, the Quinns and Joyces are united by mutual hatred. Instead of resolving their issues in court or killing each other, the menfolk engage in bare-knuckle fights for honor and cash. One would think that a couple of fights would be enough to end a feud. However, the two families hated each other so much that they have continued to beat each other up for over 12 years.
Director Ian Palmer followed the Quinns and Joyces for years to document the arc of their long-running dispute. He captures numerous fights, most of which are brief and brutal, as well as the daily routines of various participants. The individual incidents that lead to the fights seem petty and slight, giving the impression that the family dispute has more to do with adrenaline and testosterone than family honor. However, a serious grudge borne of a real tragedy fuels the flurry of smashed faces. KNUCKLE isn't just about fighting; it's about a group of outsiders trying to survive in a world that is hostile to their way of life. (Rodney)
KNUCKLE will also be the theme of our signature festival event: Fantastic Debates. At the Fantastic Debates, press, filmmakers & film professionals enter the arena for a formal debate followed by two rounds of boxing. In the ring, the great issues facing the fan community are solved once and for all, first by words, then by fisticuffs. Four debates are scheduled, culminating in the main event, a bout featuring KNUCKLE star and undefeated bare-knuckle brawler James Quinn McDonagh versus Fantastic Fest Co-Founder Tim League. (Rodney Perkins)