'Premium Rush' Trailer
Columbia Pictures has released the first trailer for David Koepp's chase thriller Premium Rush which stars Joseph Gordon-Levitt as a bike messenger who somehow gets involved in a chase across New York City. Hit the jump to watch the trailer. Leave your thoughts in the comments below.
Trailer thanks to Yahoo:
Previously: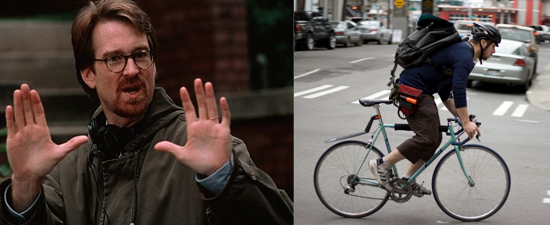 The film also features Michael Shannon (The Runaways, Jonah Hex) as the villain, "a deceptively affable cop with a violent temper", and Jamie Chung as Levitt's ex-girlfriend, "a fellow daredevil bike messenger who helps him outwit the cop."
David Koepp is best known as one of Hollywood's highest paid screenwriters (and one of Spielberg's scribes). His screenwriting credits include everything from Toy Soldiers, Jurassic Park, and Carlito's Way, to Panic Room, Spider-Man, War of the Worlds and Indiana Jones and the Kingdom of the Crystal Skull. For the last decade he's been trying to make the transition into feature film directing. He made his debut with the promising Stir of Echoes, but has since followed up with some lackluster efforts, the 2004 Stephen King adaptation Secret Window and the 2008 Ricky Gervais supernatural romantic comedy Ghost Town. Honestly, I think Koepp is a much better screenwriter than he is a filmmaker, and that's not saying much considering the abundance of lackluster screenplays he's been involved with in the last 10-12 years.
As much as I'm not a fan of Koepp's filmmaking choices thus far, I'm always game for another chase movie, especially a film with a budget. Koepp's Premium Rush is penned by his frequent screenwriting collaborator John Kamps. Aside from working with Koepp on Ghost Town and Zathura, he also wrote Mighty Morphin Power Rangers: The Movie. Yup, no snarky commentary needed.
Premium Rush hits theaters on January 13th 2012.