Are These The Top 100 Comedies Of All Time?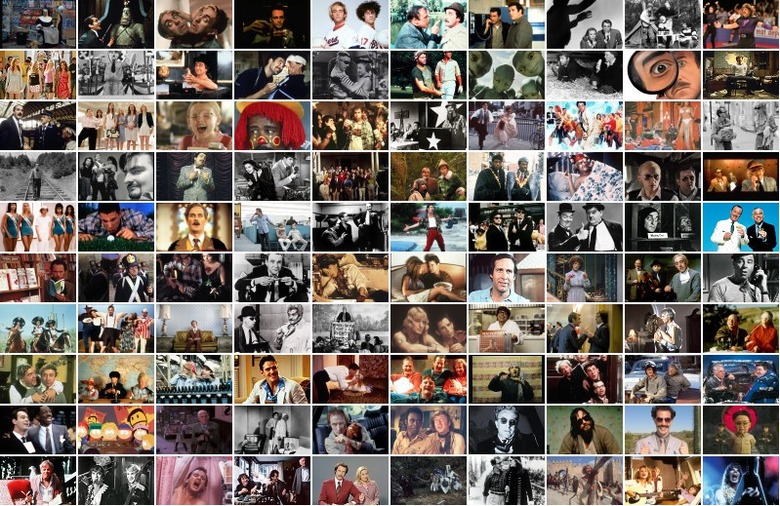 From time to time, major organizations such as the AFI give us lists of the best movies of all time. There's some kind of grand countdown from 100 to 1 and then we debate for a few days over how low this one was ranked or why was another ranked too high. And most of the time, we rarely get a glimpse behind the process.
Time Out London has just released their list of the 100 Best Comedies Of All Time but have done it in a fun and uniquely transparent way. They surveyed over 200 people who work in, with, or around comedy and asked them for their top tens. Then they averaged all those lists together to come up with the top 100.
The best part, though, is that all the lists are public. So instead of just listing the 100 best comedies of all time, we can also find out which ten comedies director Edgar Wright lists as his favorite of all time. Or Office co-creator Stephen Merchant. Or Ghostbusters 3 tease Dan Aykroyd. Or about 200 more people.
After the jump, we'll highlight a few of the individual top tens and as well as reveal the full 100.
To read all of this information and much much more, you should head over to the Time Out London page where it originated. There you can interact with the below collage of photos and find out what films made the top 100. Clicking on it below will take you to the full list but, if you want to guess from the image, the #1 film is in the bottom right and the numbers go up as you move left.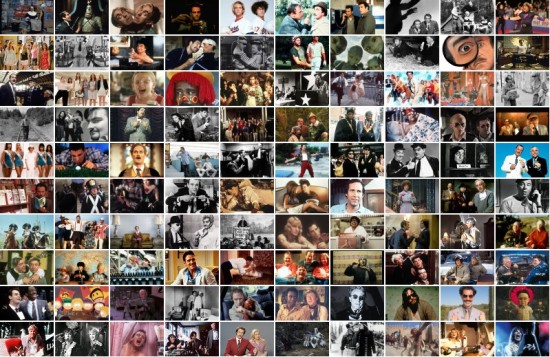 If you want to read the descriptions for the top 100, make sure to check out the full list. The home page has the interactive photos and more. Here is the listing in text form:
99. Carry on Screaming (1966)
95. The Pink Panther Strikes Again (1976)
93. Arsenic and Old Lace (1944)
91. Dodgeball: A True Underdog Story (2004)
89. The Great Dictator (1940)
87. A Fish Called Wanda (1988)
86. Mr. Hulot's Holiday (1953)
83. Sullivan's Travels (1941)
82. The Pink Panther (1963)
81. Raising Arizona (1987)
78. Little Miss Sunshine (2006)
74. Four Weddings and a Funeral (1994)
71. Broadway Danny Rose (1984)
68. The Kings of Comedy (1982)
67. His Girl Friday (1940)
66. National Lampoon's Animal House (1978)
64. Coming to America (1988)
61. The Royal Tenenbaums (2001)
58. Monty Python's The Meaning of Life (1983)
56. A Night at the Opera (1935)
55. Ace Ventura: Pet Detective (1994)
54. The Blues Brothers (1980)
52. Young Frankenstein (1974)
51. Dirty Rotten Scoundrels (1988)
50. When Harry Met Sally (1989)
49. Love and Death (1975)
48. Play It Again Sam (1972)
46. Harold and Maude (1971)
44. National Lampoon's Vacation (1983)
42. The Ladykillers (1955)
41. The Odd Couple (1968)
40. ¡Three Amigos! (1986)
39. Waiting for Guffman (1997)
38. Napoleon Dynamite (2004)
36. Kind Hearts and Coronets (1949)
34. Austin Powers: International Man of Mystery (1997)
32. The Man with Two Brains (1983)
31. The Princess Bride (1987)
27. There's Something About Mary (1998)
22. Dumb and Dumber (1994)
21. Planes, Trains and Automobiles (1987)
20. Trading Places (1983)
19. South Park: Bigger, Longer & Uncut (1999)
16. Shaun of the Dead (2004)
15. Blazing Saddles (1974)
14. Dr Strangelove (1964)
13. The Big Lebowski (1998)
12. Borat: Cultural Learnings of America for Make Benefit Glorious Nation of Kazakhstan (2006)
11. Team America: World Police (2004)
9. Some Like it Hot (1959)
6. Anchorman: The Legend of Ron Burgundy (2004)
5. Monty Python and the Holy Grail (1975)
3. Monty Python's Life of Brian (1979)
1. This Is Spinal Tap (1984)
So that's the top 100. Hard to argue with the top five but, just after a quick look, there are some huge surprises. Team America beats South Park? Best in Show beats Guffman? Raising Arizona and Caddyshack in the bottom 20? Anchorman number 6? Crazy.
And just for fun, here are a few select top tens from filmmakers and comedians that helped created the above list. Here's Edgar Wright's.
1. Raising Arizona (Joel and Ethan Coen, 1987)
2. This Is Spinal Tap (Rob Reiner, 1984)
3. Airplane! (Jim Abrahams, David Zucker, Jerry Zucker, 1980)
4. Duck Soup (Leo McCarey, 1933)
5. Take the Money and Run (Woody Allen, 1969)
6. Monty Python's Life of Brian (Terry Jones, 1979)
7. Blazing Saddles (Mel Brooks, 1974)
8. National Lampoon's Animal House (John Landis, 1978)
9. Election (Alexander Payne, 1999)
10. South Park: Bigger, Longer & Uncut (Trey Parker, 1999)
And Stephen Merchant's:
1. Chickens Come Home (James W. Horne, 1931)
2. Play It Again, Sam (Woody Allen, 1972)
3. Swingers (Doug Liman, 1996)
4. Monkey Business (Norman Z MacLeod, 1931)
5. Groundhog Day (Harold Ramis, 1993)
6. Road To Utopia (Hal Walker, 1946)
7. Team America:World Police (Trey Parker, 2004)
8. The Thin Man (W. S. Van Dyke, 1934)
9. The King of Comedy (Martin Scorsese, 1982)
10. Anchorman (Adam McKay, 2004)
And Dan Aykroyd's:
1. Duck Soup (Leo McCarey, 1933)
2. Sons of the Desert (William A. Seiter, 1933)
3. The Great Dictator (Charles Chaplin, 1940)
4. It Happened One Night (Frank Capra, 1934)
5. Take the Money and Run (Woody Allen, 1969)
6. Carry on Doctor (Gerald Thomas, 1967)
7. Dr Strangelove or: How I Learned to Stop Worrying and Love the Bomb (Stanley Kubrick, 1964)
8. It's a Mad, Mad, Mad World (Stanley Kramer, 1963)
9. The Bellboy (Jerry Lewis, 1960)
10. Goodfellas (Martin Scorsese, 1990)
Of course, that's just the tip of the iceberg. There are hundreds of other lists over on the Time Out London site.
What do you think about these choices? And what about the top 100 itself? Anything missing? In the wrong spot?
Source: Edgar Wright Here