Screenwriter Talks Rushed Production Of Tarsem Singh's 'Comedic Adventure' 'Snow White'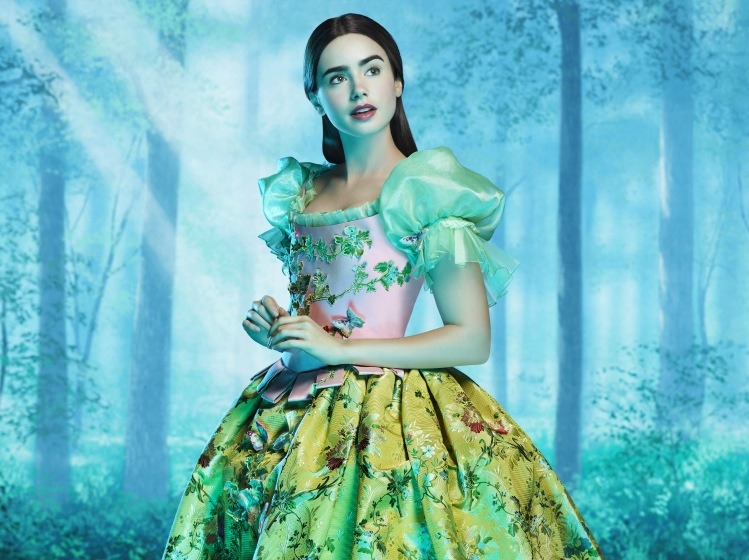 Unless you've been staring into your mirror, mirror on the wall for the past year, you know there are two competing Snow White films being released in 2012. There's Universal's dark, epic action film Snow White and the Huntsman, directed by Rupert Sanders, starring Kristen Stewart, Chris Hemsworth and Charlize Theron and then there's Relativity's lighter, family-oriented Snow White, directed by Tarsem Singh, starring Lily Collins (above), Armie Hammer and Julia Roberts. The former is scheduled for June while the latter will be out in March.
While both projects are still in production and very much shrouded in secrecy (save for some concept photos here and there) screenwriter Jason Keller, who wrote the Singh project, has revealed some interesting behind the scenes details about the film. It's a "comedic adventure," was scouting locations before the script was done and was sped up as a direct result of the other project. There's much more after the jump.
Vulture spoke to Keller at the premiere of Machine Gun Preacher, which he also wrote, and he was very frank about the speed to which the project was put together, its tone and more.
[EDIT: Apparently some of Keller's below timeline was off. According to Relativity, he didn't come onto the project in Decmeber 2010. It was actually in October 2010, five months after they purchased the original script by Melisa Wallack. Production began in June 2011.]
Here's Keller on the differences between the two films:
Ours is not dark. I mean, I know Snow White and the Huntsman is very intense, and lots of chain mail, and armor, and Kristen Stewart has a sword. Ours is an adventure, ours is funny — it's a comedic adventure! And there's some great action in it. It's stunningly gorgeous, and it's fun ... Ours will be PG or PG-13, and the other one will probably be a R. We don't know yet. But ours is nothing like theirs.
And here's Keller on how he came on board the project last last year:
I'm just being very frank about it ... at the end of last year, [Relativity] looked around, and they saw Universal was coming out with a Snow White. But they had a script that wasn't really working, but they knew they wanted to try to keep that, so when they hired me, the first conversation we all had about that was, 'How do we beat that other project?' So it was literally something like, 'We want to beat that other project. We are very, very motivated to do a Snow White project.'
He continues:
I pitched them a take on it and in the same meeting I pitched them a take on it, Tarsem was in the room, he said, 'I like that take,' the studio was in the room, they said, 'We like that take,' and that minute, they commenced me writing — this is December — and they opened the art department, they opened the costume department, and they started scouting locations. All in the same minute! It hadn't even been written yet! It was all because there was a derby race. And it all happened to work. I happened to write a script that was good enough in a very short enough period of time to get Julia Roberts, and we didn't then have to wait for art and costumes because they were already going. So it was a super-cool way to write a movie.
There's more at the Vulture piece.
First of all, there's no way Snow White and the Huntsman will be R. That aside, everyone was skeptical when Relativity announced a March 2012 release date for their Snow White, giving them mere months to complete the film and Keller's comments have only helped to strengthen that worry. I know he's trying to be positive about the whole thing – he has to be – but making a financially reactionary movie is very rarely a good thing. And while the discussion of the film as a "comedic adventure" at least distinguishes the film from its competition, it feels like Universal's strategy to wait things out will, most likely, result in a stronger product.
Do you agree? Do you think it's scary that this film came together in such an unconventional manner?