Cool Stuff: 'Logan's Run' Posters By Tim Doyle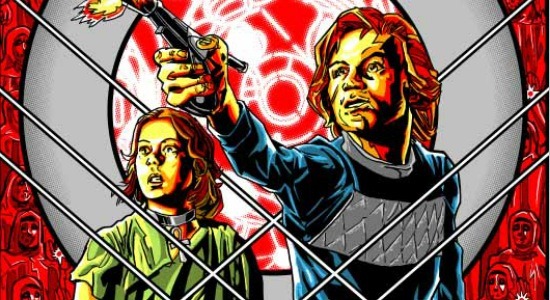 Whether or not you've seen Michael Anderson's 1976 sci-fi film Logan's Run, you're going to be hearing a lot about it in the coming weeks. Initially the discussion will be about the proposed remake directed by Nicolas Winding Refn and starring Ryan Gosling because their first collaboration, Drive, hits theaters on Friday. Later, Logan's Run will be referenced when Andrew Niccol's In Time is released next month because both films share the similar narrative idea of a world where people only live to a certain age.
Then there's this brand new poster for the film by artist Tim Doyle that'll first premiere at a screening of the film in Australia and then appear online. Check out both the regular and variant editions after the break.
Thanks to Inside the Rock Poster for these images.
The red/yellow regular version comes in a signed and numbered edition of 200 and is 16 x 26. The purple poster is the variant, also 16 x 26, comes in a signed and numbered edition of 60. It's printed on metallic ice silver paper.
Logan's Run will screen this weekend at the Astor Theater in Melbourne, Australia and then go on sale at TommyGood.com next week. To find out exactly when, you should head to that site and sign up for their mailing list.
In my opinion, while the original 1976 Logan's Run depicted in Doyle's poster remains a good movie in many ways, it's none the less dated if you watch it today. Plus, the action isn't a little bit lacking. It certainly has a huge nostalgia factor and, in its pre-Star Wars time, delivered entertainment for those audiences, but I'm excited to see a version of this story – based on a novel by William F. Nolan and George Clayton Johnson – made with modern technology.
Are you a fan of Logan's Run? What do you think of this poster?