Watch The 2009 Comic Con Footage From David Fincher-Produced 'The Goon'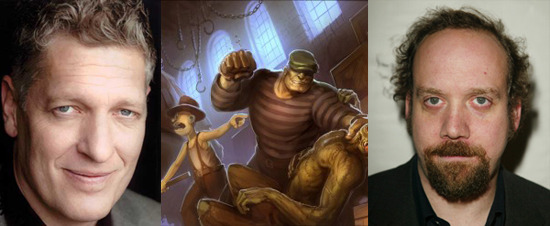 Good things come to those who wait; sometimes we just have to wait a very long time. Fans of Eric Powell's supernatural head-busting comic series The Goon may recall my enthusiasm for the Comic Con panel held for the comic in 2009. That panel was where we learned that Powell was still working with David Fincher to make an animated film based on the comic, and that Clancy Brown and Paul Giamatti had agreed to voice the two main characters, the Goon and Franky.
A short test clip was shown in '09, and it didn't end up online until now. It's a fun piece of animation; check it out below.
Eric Powell said on Twitter yesterday, "Speaking of the Goon film, I got permission to post this early test footage."
He was speaking of the film because of the trailer and sales deal for the hockey comedy Goon, the name of which Powell is none too pleased with. He said "we politely asked them to change the name. They declined."
We don't know what's up with this film — Powell showed this clip in '09, and he and David Fincher shared panel space last year, but we haven't really heard anything about the film since the 2010 footage hit the web. The project is seeking funding and I hope it happens; I've really enjoyed these small snippets so far.
The YouTube page for this clip says,
This is early rough test animation for the David Fincher / Blur Studios / Dark Horse Entertainment produced film THE GOON. Based on the Dark Horse Comic's series by Eric Powell. Clancy Brown and Paul Giamatti provided the voices for this test.
THIS IS NOT INDICATIVE OF THE FINAL PRODUCT
As of now this film is still looking for funding.
[via ComingSoon]