Magnet Buys Bobcat Goldthwait's 'God Bless America'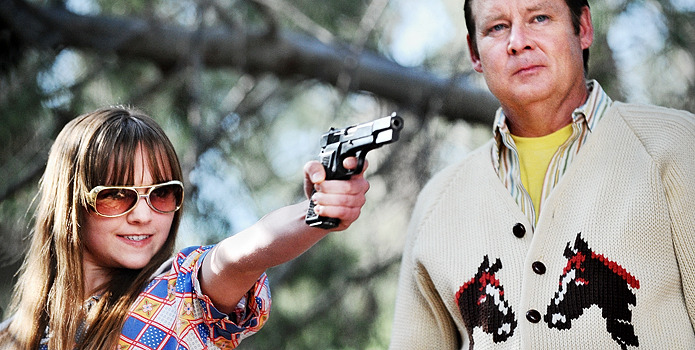 The latest buy out of TIFF is a good one: Bobcat Goldthwait's new black comedy God Bless America has been bought by Magnet for release in 2012. This is the same company that got behind Goldthwait's last film, World's Greatest Dad. So once God Bless America got a great reception at TIFF it was, if not a given, then certainly a pretty good bet that the company would get behind this new film, too.
God Bless America will be released theatrically and on VOD at some point next year; hopefully we'll have a trailer and full scheduling info soon. Meanwhile, the press release from Magnet is below. Check out what Goldthwait said about the film not long ago, and read Pete's rave review of the film from TIFF, too.
Toronto, ON – September 13, 2011 – The Wagner/Cuban Company's Magnet Releasing, genre arm of Magnolia Pictures, announced today they have acquired world rights to Bobcat Goldthwait's outrageous killing-spree comedy GOD BLESS AMERICA, which premiered late last week in the Midnight Madness program at the Toronto Film Festival. Starring Joel Murray and Tara Lynn Barr, GOD BLESS AMERICA is a Darko Entertainment production written and directed by Goldthwait (Sleeping Dogs Lie, World's Greatest Dad) and produced by Sean McKittrick and Jeff Culotta.
GOD BLESS AMERICA is the second collaboration between Goldthwait, Darko and Magnolia/Magnet, who released World's Greatest Dad in 2009. Magnet is planning a 2012 theatrical release for GOD BLESS AMERICA through Magnolia's Ultra VOD program. The film is Magnet's second acquisition out of the Toronto Film Festival this year, having just picked up Michael Dowse's raucous hockey comedy GOON.
Joel Murray gives a boldly comic and surprisingly empathetic performance as Frank, a divorced and depressed man who is becoming increasingly overwhelmed and infuriated by the rampant stupidity that surrounds him: his white trash neighbors, idiot co-workers, and most of all the soul-crushing banality and omnipresence of American pop culture. Loveless, jobless, possibly terminally ill, Frank has had enough of the downward spiral of America, and with nothing left to lose, he buys a gun. Joined by a 16 year old partner in crime (Barr), he sets out to off the stupidest, cruelest, and most repellent members of society,
"I'm a big fan of all of Bobcat's films, and very excited to be collaborating with him again," said Magnolia/Magnet President Eamonn Bowles. "GOD BLESS AMERICA is the revenge fantasy to end all revenge fantasies. It's a brilliant skewering of all that's despicable inAmerican pop culture and it's his funniest film to date.""I'm very excited to be working with Eamonn again," said Goldthwait. "We share the same vision especially when it comes to whom should be getting shot in the face hypothetically."