'Goon' International Trailer; Magnet Picks Up The Hockey Comedy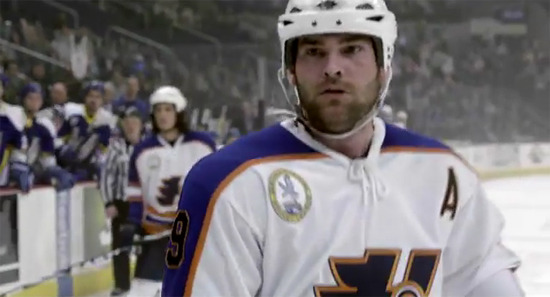 Kevin Smith isn't the only one with a hockey movie brewing. You might recall that Seann William Scott was provisionally cast in Smith's next and possibly last film, Hit Somebody, but then ended up starring in this other hockey comedy, Goon, instead.
Goon stars Scott as a bouncer who joins a minor league hockey team as he discovers his talents for fighting and skating. Liev Schreiber is his mustachioed nemesis, Alison Pill is a romantic interest and Jay Baruchel plays a supporting role. Baruchel wrote with Evan Goldberg (Superbad co-writer) inspired by the book Goon: The True Story of an Unlikely Journey into Minor League Hockey, written by Doug Smith and Adam Frattasio.
The film played at Toronto to great audience response (Toronto certainly being the best fest at which to debut a hockey film) and subsequently sold to Magnet for around $2m. A few more details, and a new Canadian trailer are after the break.
Confirming the purchase of the film, Magnolia/Magnet president Eamonn Bowles said via press release "Goon is a pucking blast. It's a complete crowd pleaser that has all the elements of a future comedy classic." That hyperbole is expected from the head of the company that just shelled out a couple million for the movie, though the trailer above doesn't quite support his assertion. Still, Goon looks entertaining enough; I want to see if Alison Pill does more with her character than the trailer suggests.
And Jay Baruchel isn't done with sports. He and writing partner Jesse Chabot have been hired to write Baseballissimo, based on the 2005 non-fiction book by Dave Bidini, about "the author's family adventures in Nettuno, the baseball capital of Italy, where American G.I.s introduced the game in 1944."
Oddly enough, the book was originally optioned by Geddy Lee of Rush, who took it to Toronto producer David Miller, who has been organizing Canadian and European money to fund the film. [Variety]