Jennifer Westfeldt's 'Friends With Kids' Is Smarter Than Your Average Indie Romcom [TIFF Review]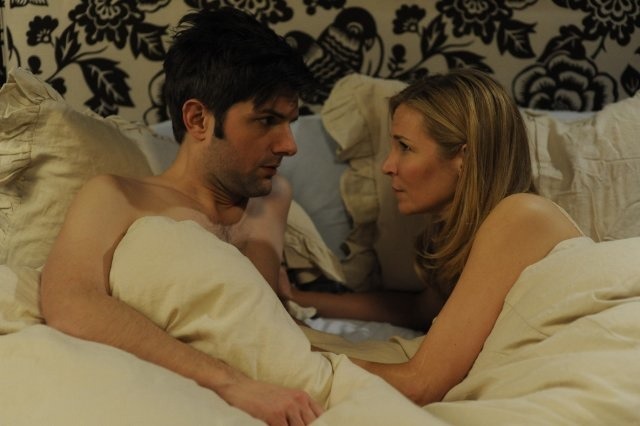 Jennifer Westfeldt's Friends With Kids (not the be confused with Friends With Benefits) has a set-up that most people in their 30's can relate with — what happens when all of your friends get married, have children and become unavailable?
In every group there is one or two single stragglers that remain, who
A. either havent found someone
B. broke up with their long time boyfriend/girlfriend from college and havent been able to adapt to the dating scene
or C. are happy bachelors or loners.
In Kids, Westfeldt plays a character in situation B while Step Brothers/Parks and Rec star Adam Scott is situation C. Best friends for almost two decades, they have developed an almost brother/sister relationship. Of course, from the first moments in the film, we the audience know they are perfect for one another — but like many film story lines, they (and no one else in the movie for that matter) are able to see the obvious.
They are conflicted, feeling left out of the generational shift to parenting, yet disgusted at how having children have seemingly made all of their friends miserable and unavailable. They joke that divorced parents have it made because they get to experience the wonders of having and raising a child without the constant arguing and compromises that might arrise from taking care of a child 100% of the time.
The time to have a kid is now but without a relationship, the moment might be years off when it might no longer be possible. So they devise a plan to have a child together, live separately, splitting parenting duties and responsibilities 50/50 with none of the problems or issues of romantic entanglement. This progressive, yet irresponsible, idea is the starting point for this film.
While it starts off very by the numbers, the film transitions into something much more clever and serious. Unlike a lot of romantic comedies, this film has something interesting to say about a time in each and every one of our lives. It doesn't settle on the generic archetypes that we're use to, and feels more real than most of these type of movies. The dialogue and discussion is smart, and the story packs some nice slice-of-life moments of living in New York City.
Interestingly, Friends With Kids could be set in an alternate Bridesmaids universe as the supporting cast is comprised from that film. Maya Rudolph is married to Chris O'Dowd (who plays the cop in Bridesmaids), while Kristen Wiig is married to Jon Hamm (who yes, is in a longtime relationship with director/writer/star Westfeldt).  While the film turns much more series than the sis-rom-com that was Bridesmaids, it will be hard for you to dislike this film if you like the cast.
/Film Rating: 7 ou of 10
You can also watch a video blog I recorded with Alex from FirstShowing ans Jordan from FilmStage talking about this film and Nacho Vigalondo's Extraterrestrial: