'The Three Stooges,' From The Farrelly Brothers, Hits In April 2012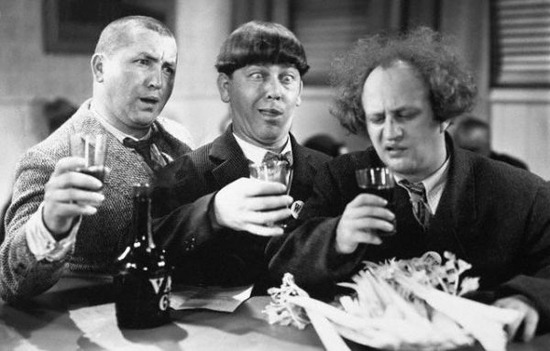 I'm very curious to see what Peter and Bobby Farrelly have done with The Three Stooges, which is a film they've wanted to make for years, and eventually shot early this year in Atlanta with Sean Hayes as Larry, Chris Diamantopoulos as Moe, and Will Sasso as Curly. Have they come up with something that will have any of the iconic comic appeal of the original Stooges? That seems impossible, given the fact that they're making this film in a totally different comedy landscape. Turns out that we'll find out what they've done with it in April of next year.
As to insight about what the film might offer, a few Atlanta crewmembers told tales of really huge, outrageous slapstick setpieces being constructed, and that's pretty appealing. So the key with The Three Stooges might be to watch it just for that aspect, assuming the vague stuff I was told pans out, rather than as a revival of the classic characters. Regardless, we'll find out what the deal is with the film on April 4, 2012. We haven't even seen an official image of the cast yet, much less a trailer, but rest assured that as soon as anything is available we'll toss it your way.
The film co-stars Jane Lynch, Jennifer Hudson, Sophia Vergara, Criag Bierko, Stephen Collins and Larry David. In talking about the release date, THR mentions that the film will follow the Stooges as "they try to save their childhood home, but accidentally become involved in a murder plot and in a modern-day twist will end up starring in a reality TV show." Yeah, so that last aspect is really not all that appealing, but we'll try to stay positive.