Russell Crowe And Helena Bonham Carter In Talks For 'Les Miserables', Release Date Announced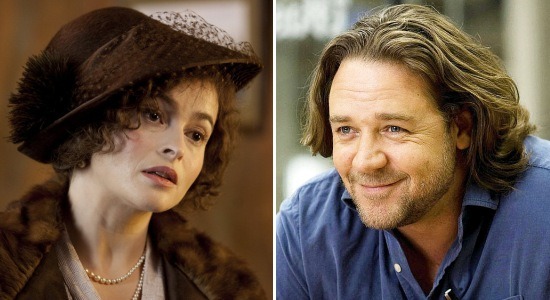 A few interesting bits of news about Tom Hooper's Les Miserables adaptation have surfaced today. One, it seems the project has found a couple of villains in previously rumored stars Russell Crowe and Helena Bonham Carter. And two, we finally know when, exactly, we can expect to see the finished product. Read more after the jump.
Set in 19th-century France, the story revolves around the kindhearted Valjean, who gets sent to prison for stealing a loaf of bread to feed his sister's children. He gets out 19 years later and finds himself wrapped up in a revolution as he seeks redemption. Javert is a police inspector who's determined to put Valjean back in prison; the Thénardiers are the abusive guardians of the girl Cosette, who later comes under the care of Valjean. Hooper's film is based on the megahit Broadway musical of the same title, which in turn is based on the classic novel by Victor Hugo.
Although Les Miserables will be Crowe's first time starring in a big-screen musical, he's actually demonstrated an interest in music before — he's been the lead vocalist of Russell Crowe & The Ordinary Fear of God (formerly known as 30 Odd Foot of Grunts) for nearly two decades. And the character of Javert, who is less a pure villain and more a misguided soul, seems perfect for his acting talents.
Carter seems like a great fit for Les Miserables as well. She's already proven her vocal capabilities in Sweeney Todd, and her ability to play cruel but fascinating in projects like the Harry Potter franchise. It's also worth nothing that her last project with Hooper, The King's Speech, earned her an Oscar nod.
As for when we'll finally see the project hit theaters, Deadline reports that Universal has the film scheduled for a December 7, 2012 bow. With that release date and this pedigree, it's probably reasonable to expect we'll be seeing Hooper raking in the Oscar nominations again next winter.