James Cameron, Vince Pace Offering Seal Of Approval To 'Walking With Dinosaurs 3D'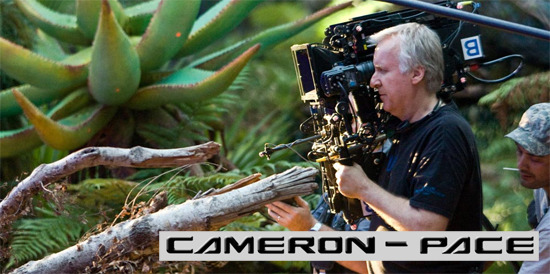 Walking With Dinosaurs 3D, the hybrid live-action/CGI family film based on the BBC Worldwide six-part series featuring CGI and animatronic dinosaurs in the Mesozioc period, already has the advantage of associating with a popular touring exhibition, and is likely to be distributed by Fox.
Now the film has a marquee name as consultant and a powerful tech partner, as the producers have started working with James Cameron and Vince Pace to get the Cameron | Pace Group stamp of approval for the film's 3D efforts.
Cameron told THR,
Our goal was to create a brand name that was associated with quality in 3D. To do that, we had to have the best technology we could come up with in-house and operate that technology in the field, and most importantly we had to form alliances and partnerships with people who also want to do high-quality 3D. Evergreen and the BBC are perfect examples of this.
This and Enchanted Kingdom, another 3D film from the same company, Evergreen Films, will be the first projects certified by CPG. In other words, they get a stamp of approval and will used only Cameron Pace Group 3D tech.
So it sounds like the CPG stamp is being approached like a sort of THX certification. THX obviously has no connection to the content of a film, only to the technical aspects of its presentation — it's a quality assurance stamp and nothing else. And that's what the CPG stamp sounds like. But as 3D proves to not be quite the savior of cinema that many had hoped it would become, will that matter at all in the future?