/Film New York: Catch Pixar's Short 'La Luna' This Weekend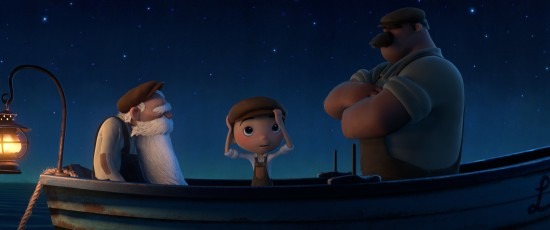 Most audiences won't be seeing Enrico Casarosa's lovely Pixar short La Luna until it opens with Brave next summer, but lucky New Yorkers will get the chance to check it out early this Sunday. The short will be playing at the Japan Society this weekend as part of the Films for Hope festival, and will be followed by a discussion with the director himself.
La Luna's been getting fantastic buzz, even by Pixar standards. Our own Peter Sciretta has described it as a "new classic" with the feel of "a timeless fairytale." And if all that weren't enough to convince you, half of all proceeds from the event will go to Japan Society's Earthquake Relief Fund. That's right — you'll get bragging rights and karma points. More details after the jump.
Here's the synopsis for La Luna:
La Luna is the timeless fable of a young boy who is coming of age in the most peculiar of circumstances. Tonight is the very first time his Papa and Grandpa are taking him to work. In an old wooden boat they row far out to sea, and with no land in sight, they stop and wait. A big surprise awaits the little boy as he discovers his family's most unusual line of work. Should he follow the example of his Papa, or his Grandpa? Will he be able to find his own way in the midst of their conflicting opinions and timeworn traditions?
And the one for Five Numbers!:
In Five Numbers, four ex-convicts woke up in the ultimate prison. They do not know why they are there. The race to escape the prison ensues. The only person who seems to know the way out is the fifth prisoner, a mysterious old man with a black cat.
And a gorgeous clip from La Luna:
Head over to the Japan Society webpage for more info.