Fox Searchlight Buying 'Shame,' With Michael Fassbender; See A Clip Now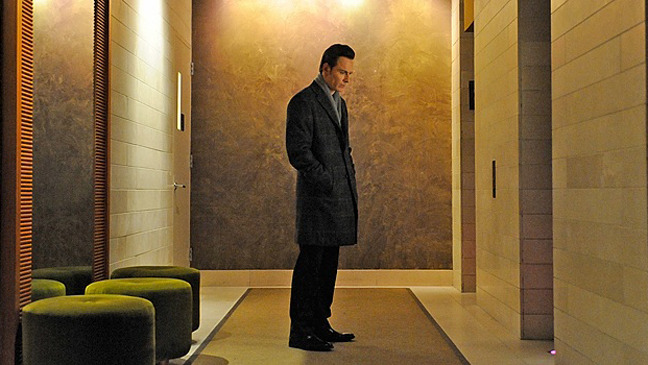 One of the biggest critical hits at the Venice Film Festival was Shame, in which Hunger director Steve McQueen once again works with actor Michael Fassbender to tell a story of a man who doesn't quite have control over his sexual urges. I've edged away from full reviews, but reports peg it as both gruesome (for one scene) and quite sexually explcit, with full frontal displays from Fassbender and co-star Carey Mulligan.
(THR mentioned "male and female full-frontal nudity, graphic depictions of straight/gay/threeway sex, masturbation, urination and a gruesome [redacted to avoid spoilers].")
Scanning reviews paints Shame as a venue for a very effective performance from Michael Fassbender, if nothing else. And as McQueen has refused to cut the film, it is also one which will go out as an NC-17. So it has been the subject of debate for the past week — who'll pick this one up? As it turns out, the distributor with the balls (or the willingness to show them) is Fox Searchlight, which bought distribution rights to Shame today in Toronto.
Deadline reports that Fox Searchlight picked up Shame today, and a press release followed, which you can read at the bottom of this post.
As to the question of cutting the film, producer Iain Canning said,
I would hope that pushing the boundaries and pushing the level of performance as an actor would be recognized. Everybody that's talking to us now about U.S. distribution understands that this film is in its final form.
Here's a clip from the film. I haven't watched it because, well, clips aren't the best way to look at a film. I'll watch the trailer for Shame, eagerly, but until then I'd rather give a pass to whole scenes. For those who feel differently, however, enjoy this clip. You'll get a bit of the filmmakers talking about it beforehand at Venice, too. The film footage hits around 2:30 in.
TORONTO, Ontario, Canada September 9, 2011 – Fox Searchlight Pictures Presidents Nancy Utley and Stephen Gilula announced today that the company has acquired U. S. rights to the intimate and provocative drama SHAME.  The film is directed by Steve McQueen, written by McQueen and Abi Morgan and stars Michael Fassbender and Carey Mulligan.  SHAME is a See-Saw Films production for Film4 and U.K. Film Council and produced by Iain Canning and Emile Sherman.  Tessa Ross, Robert Walak, Peter Hampden and Tim Haslam are executive producers with Bergen Swanson as co-producer.  HanWay Films is handling international sales.  The film is scheduled to be released in 2011.
"Steve McQueen's courageous exploration of modern life's extremes is breathtaking.  He has crafted an extraordinary film that probes some of the deepest and darkest issues ever portrayed on screen with amazingly gifted performances by Michael Fassbender and Carey Mulligan," said Gilula and Utley.
"Fox Searchlight contacted us immediately after the screening in Telluride to tell us how much they loved the film. Their approach to marketing and distributing the film this year was incredibly detailed and impressive. We are excited to be working with them on a film that is sparking debate and a strong emotional reaction from audiences," said Canning and Sherman.
"This is a brave statement and an important move by Fox Searchlight.   I am very happy they came on board to release Shame in the U.S.  It's great to be working with a team that is so passionate about cinema," said McQueen.
Brandon (Michael Fassbender) is a New Yorker who shuns intimacy with women but feeds his desires with a compulsive addiction to sex. When his wayward younger sister (Carey Mulligan) moves into his apartment stirring memories of their shared painful past, Brandon's insular life spirals out of control.
The deal was brokered by Fox Searchlight's Executive Vice President of Worldwide Acquisitions Tony Safford, Senior Vice President of Business Affairs Megan O'Brien, Vice President of Acquisitions Ray Strache with Thorsten Schumacher and Claire Taylor of HanWay Films on behalf of the filmmakers.
Fox Searchlight Pictures is a specialty film company that both finances and acquires motion pictures.  It has its own marketing and distribution operations, and its films are distributed internationally by Twentieth Century Fox.  Fox Searchlight Pictures is a unit of Fox Filmed Entertainment, a unit of Fox Entertainment Group.